BY LINDA BENTLEY | NOVEMBER 22, 2011
LearnYes and CCUSD93 may have violated FCC regulations
FCC recommends filing a complain
CAVE CREEK – During LearnYes.org's recent political campaign advocating passage of Cave Creek Unified School District's 15 percent M&O override on Nov. 8, which failed by a vote of 6,901 to 8,495 (45 percent Yes to 55 percent No), Sonoran News received numerous calls from parents saying they'd received prerecorded phone calls to their wireless phones from the political action committee urging them to vote yes.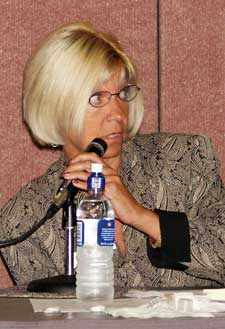 For starters, they were irate that LearnYes was somehow able to obtain their unpublished wireless phone numbers to make unwanted, prerecorded campaign calls. And, they said the only place LearnYes could have obtained their numbers was from the school district.
According to CCUSD93 Superintendent Debbi Burdick (l), any information parents provide the district for the purpose of being contacted in the event of an emergency involving their children is a public record, which may be sold to political action committees or anyone else who fills out a public records request.

However, when Sonoran News contacted the Federal Communications Commission (FCC) last week, we were told callers are prohibited from making solicitation calls to wireless phones in nearly every situation.

Consumer concerns about the growing number of unsolicited telephone marketing calls and increase in the use of automated and prerecorded messages prompted Congress to pass the Telephone Consumer Protection Act (TCPA) in 1991.

In response, the FCC adopted a number of rules.

In June 2003, the FCC, in conjunction with the Federal Trade Commission, supplemented its original rules implementing the TCPA by establishing the national Do-Not-Call list.

FCC rules state: Except for emergency calls or calls made with the prior express consent of the person being called, autodialers and artificial or prerecorded voice messages may not be used to contact numbers assigned to:
• any emergency telephone line;
• the telephone line of any guest or patient room at a hospital, health care facility, home for the elderly or similar establishment;
• a paging service, wireless phone service (including both voice calls and text messages) or other commercial mobile radio service; or
• any other service for which the person being called would be charged for the call.
These prohibitions apply regardless of whether the number has been listed on the national Do-Not-Call list.

While telephone solicitation calls are generally those that act as an advertisement, the term does not include calls or messages placed with the recipient's express permission, by or on behalf of a tax-exempt nonprofit organization, of from a person or organization with which one has an established business relationship (EBR).

Even if you have an EBR with the caller, that can be put to an end by telling the caller or entity to not place any more solicitation calls to your home.

Also, an EBR is only in effect for 18 months after your last business transaction or three months after your last inquiry or application.

Outside of that, calls are considered subject to the Do-Not-Call rules.

To register a phone number on the Do-Not-Call list, visit www.donotcall.gov. There is also no longer a need to reregister numbers every five years. The number will now remain on the list until it is removed.

The FCC indicated to Sonoran News the school district could be in violation of FCC regulations by selling parents' private wireless numbers to LearnYes.org for the purpose of making prerecorded campaign calls.

The FCC encouraged anyone who received such unwanted calls to their wireless phones, which they said appear to be in violation of FCC rules, to file a complaint.

Complaints may be filed using the FCC's online complaint form (www.fcc.gov/complaints). A complaint may also be filed with the FCC's Consumer Center by calling 1-888-CALL-FCC (1-888-225-5322); faxing 1-866-418-0232; or writing to:

Federal Communications Commission
Consumer & Governmental Affairs Bureau
Consumer Inquiries and Complaints Division
445 12th Street, SW
Washington, DC 20554.

The FCC recommends using the online complaint form to best provide all the information the FCC needs to process a complaint.

The online complaint form asks a series of questions that will take the complainant to the particular section of the form that needs to be completed.

If one chooses not use the online complaint form, the complaint, at a minimum, should indicate:
• your name, address, email address, and phone number where you can be reached;
• the phone number where you received the call, and whether this number is on the national Do-Not-Call list or if it is a wireless number;
• the date and time of the call;
• whether the call advertised or sold any property, goods or services;
• any information (including a caller ID number) to help identify the individual or company whose property, goods or services were being advertised or sold, and whether any of this information was provided during the call;
• whether you or anyone else in your household gave the caller permission to call;
• whether you have an EBR with the caller (specifically, whether you or anyone else in your household made any purchases of property, goods or services from the individual or company that called, or made any inquiry or filed an application with the individual or company prior to receiving the call); and
• whether you or anyone in your household previously asked the caller or individual or company whose property, goods, or services are being advertised or sold NOT to call, and when you made the request.

Filing a complaint with the FCC does not prevent anyone from also bringing a suit in state court.