BY LINDA BENTLEY | NOVEMBER 9, 2011
Phoenix postpones decision to implement new airport fees
PHOENIX – The city of Phoenix Aviation Department recently announced it will postpone a recommendation to implement commercial ground transportation trip fees until further notice.

In a memo to businesses that provide private ground transportation services to and from Phoenix Sky Harbor International Airport, Tracey Rivas, Ground Transportation Superintendent, Operations Division, said the decision was reached after holding several industry outreach meetings and listening to industry stakeholders.

Rivas wrote, "The Department understands the economy has been challenging, however it continues to significantly subsidize facilities and services necessary to support commercial ground transportation operations. While many airports around the country already have a trip fee system in place to recover costs, Sky Harbor will delay implementation at this time."
She said businesses will be notified when those discussions are reopened.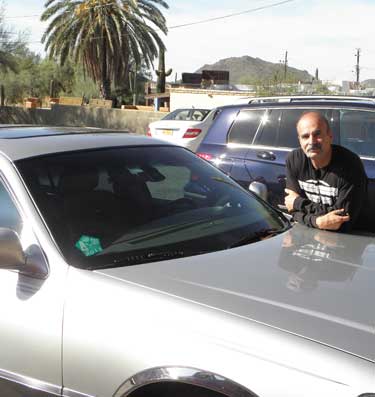 If anyone ever wondered why it costs what it does to use a limousine service to come from and go to the airport, Chris Dourlaris (r), who owns Apollo VIP Sedan Service, explained all the hoops and associated costs in providing such service legitimately.

In the business for a quarter century, the last 15 out of Tatum Ranch, Dourlakis said in order to obtain a permit to operate his business he must have a commercial driver's license and license plate, be fingerprinted, take a defensive driving class, have a background check and medical exam.

Once he's done all those things, which have associated costs, he is able to obtain an ID card.

Then he must get a quarterly vehicle inspection and pay $100 for a sticker, which must be placed inside his windshield, or he can be fined $165. No exceptions are made even if the expiration occurs on a weekend or holiday.

Additionally, his insurance certificate must list the airport as an additional insured for $300,000.

Then he must place a tracking device on his windshield, which the airport claims is for his protection.

The new fees being proposed by the city would double the fees already paid by taxis and limousines; hotel, rental car and offsite parking shuttles.

Airport officials claimed the fees were necessary to recover the cost of road maintenance and infrastructure.

While a study revealed 91 percent of all airport traffic is public, and only 9 percent is made up of limousines, shuttles and buses, the proposed fees were aimed at the 9 percent.

City transportation vehicles, on the other hand, would have been exempt from the fees, giving Phoenix a competitive edge over private transportation providers that compete against the city.

The Arizona Limousine Association and other private entities that provide chauffeured transportation, shuttle and bus service, made their displeasure known about the proposed fee hike and, although the city has backed down, it says it has only postponed that decision, which will increase the cost of doing business for these small businesses.

Back in August, David Warren, owner of Blue Sky Parking and president of the Phoenix Passenger Alliance, wrote an editorial about the proposed fee hike and said it would cost his business $500,000 per year, a figure higher than their annual payroll.

Warren said the "information meetings" held by the city were "full of company representatives pleading for mercy."

He said they were not representatives of massive corporations but rather "small-business men who, like me, are proud to do business in Phoenix, even during difficult economic times.

"We're not asking for handouts," said Warren, "We're simply asking for basic fairness and for government to stay out of our way when it comes to creating jobs. If the Aviation Department continues to push for higher fees while undercutting competition, we might as well close our doors," something he said was not only bad for small businesses, but bad for Phoenix residents as well.