NOVEMBER 9, 2011
Valley cyclists race for open space
Bicyclists from as far away as Canada to join in fight to preserve lands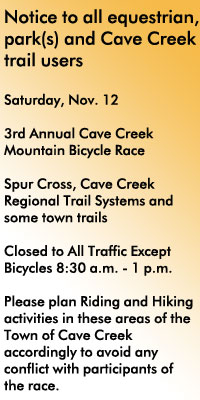 CAVE CREEK – The Cave Creek Bicycle Festival will raise money on Nov. 12 –13 for the preservation of acres of pristine Sonoran Desert in the foothills north of Phoenix, Arizona. The weekend-long event will include a 22-mile mountain bike race on Saturday, which will draw top-level competitors from the region, and the North Valley Bello Fondo on Sunday, with 30 and 50-mile options for road cyclists. All three rides are open to cyclists of any ability, and are drawing record levels of pre-registration. Also included in the festival are a Kid's Kriterium Race, Alley Cat Race and a Bike-in Theater on Saturday Night.

With "Urban Sprawl" a hot-button topic in the area, the Town of Cave Creek and CCBF staff have teamed up to do something about it by gathering funds in conjunction with the Desert Foothills Land Trust, a non-profit organization which works through conservation, acquisition and stewardship. Over 1,700 land trusts currently function in the United States, and have proven to be effective at protecting public lands for the use of future generations.

Word about the Cave Creek Bicycle Festival is spreading to a wider group every year, as it showcases one of the best areas in Arizona for both road and mountain bicycle riding, while appealing to a diverse group of riders.

Visit www.cavecreekbicyclefestival.com for details or e-mail Cavecreekbicyclefestival@gmail.com.