NOVEMBER 2, 2011
Black Mountain Photo Contest finalists announced!
CAREFREE/CAVE CREEK/SCOTTSDALE – Desert Foothills Land Trust is pleased to announce the finalists in the Black Mountain Photo Contest. Professional photographers Don Asakawa, Alan Lowy and Jerry Sieve reviewed nearly 70 entries and chose 15 finalists.

The winning photos will go on public display for viewing and voting for the People's Choice Award starting on November 2 at the Cave Creek Museum. They will then proceed to the Land Trust's booth at the Cave Creek Bicycle Festival from November 11-13 and will move to the Desert Foothills Library on November 14. The voting for the People's Choice Award will end on November 18 but the display will remain at the Library until early December. Votes will also be collected on the Land Trust's Facebook page. The People's Choice Award winner will be featured on the cover of the 2012 Black Mountain Photo Contest calendar.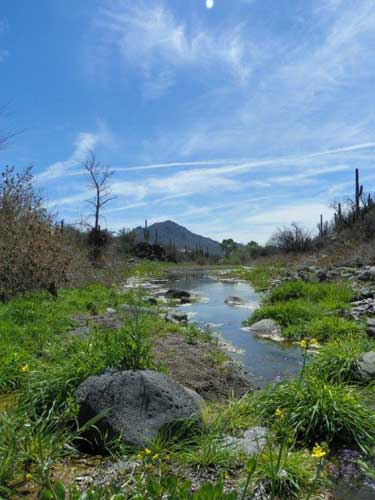 The following people have been chosen as finalists: Thomas M. Baker, Mike Burns, Richard M. Coda, Mike Doyle, Robert Grebe, Margit Kagerer, Juan Loza, Steve Norris, Steven Patricola, Linda Sakane, Phil Shultz, Andreas Schmalz, and Susan Trogan. Their photos will appear in the 2012 Calendar and are eligible in the voting for People's Choice Award. Also selected for inclusion in the calendar opening pages but not eligible for the People's Choice Award are vertical photos by Gary Hockett (shown, left) and Heinz Kagerer.

"We were just blown away by the quality of photos submitted and the obvious love entrants feel for Black Mountain. We are grateful to all the people who submitted photos and for the community's support of our work to protect Black Mountain and our beautiful Sonoran Desert," said Executive Director Sonia Perillo. "We hope to see many people come out to view the photographs and vote for their favorite!"

Desert Foothills Land Trust is proud to sponsor the 9th Annual Black Mountain Photo Contest. Black Mountain Conservancy, the original sponsor of the contest, merged with Desert Foothills Land Trust in 2009, and the Land Trust is pleased to continue this important community event. By capturing the beauty and majesty of Black Mountain, photo contest participants are helping Desert Foothills Land Trust inspire the protection of our fabulous desert landscape.

About Desert Foothills Land Trust:
Desert Foothills Land Trust works with landowners, communities and partners to protect the most special and important natural areas in the Arizona communities of Carefree, Cave Creek, north Scottsdale, north Phoenix, Anthem and New River. The Land Trust has permanently protected 620 acres on 16 preserves, many of which are open to the public for exploration and passive recreation. In 2010, the Land Trust was awarded accredited status by the national Land Trust Accreditation Commission – the first land trust in Arizona to achieve this designation. More information is available at www.dflt.org or 480-488-6131.