BY LINDA BENTLEY | NOVEMBER 2, 2011
Special events not so special anymore
'Special events is a misnomer. There's nothing special about them. We're having them all the time'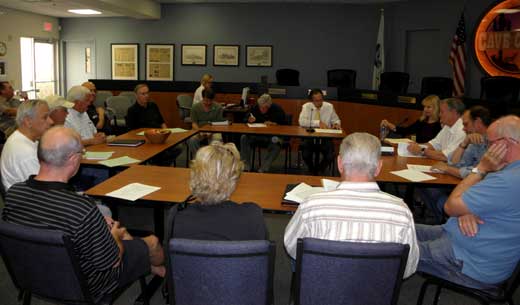 Photos by Linda Bentley
CAVE CREEK – During Tuesday evening's special work session, Planning Director Ian Cordwell said the town removed the special event ordinance from the zoning ordinance and placed it in the town code.
One of the key items, Cordwell said, as to whether an event requires a permit is if the event will require off-site parking, while another key element is if the event will include outside vendors.
Mayor Vincent Francia then said, "Let me try to take the arrow to the heart."
He said special events were going fine until recently and the town decided the ordinance may need to be revised.
While some special events produce sound, Francia said, "If that sound goes outside of that setting it creates noise."
Francia asked that they focus on those two matters, special events and noise.
Vice Mayor Ernie Bunch said, "I'm not sure people are taking the effort to be in compliance."
Town Manager Usama Abujbarah, acknowledging there were several complaints over the weekend said, "There was no violation."
Bunch responded, "I think that's bullshit."
Town Marshall Adam Stein said he took measurements and corroborated Abujbarah's statement that there were no violations.
Stein explained how measurements are taken and use an average sampling over a period of two minutes. He also said there are problems getting sound measurements along Cave Creek Road due to all the traffic noise and noise from neighboring businesses.
"Most likely, the problem is with the ordinance," said Stein.
Francia confirmed the noise limit in the town core is 75 dB.
Bunch said maybe the two-minute sampling is too long and stated businesses might be adhering to the rules and not the intention.
Abujbarah said enforcement can only be based on the letter of the law.
Stein said he believed the two-minute reading needed to be looked at.
When he responded to a complaint at Carefree's Ridgeview Estates, Stein said he could hear the music "loud and clear" from there but it was not in violation and the readings were all under 60 dB, the limit for residential.
Councilman Jim Bruce said if the readings in the town core were at 75 dB, "then we need to lower it."
He asked, "If traffic interferes, how do you measure it?"
Planning Commissioner Ted Bryda said, "There are programs out there that can filter out traffic noise, so it can be done."
Planning Commissioner Reg Monachino said there seemed to be a sufficient number of citizens that are concerned and perhaps the town should consider lowering the dB level for a period of time – six months or so – and see if that works.
Frank Imel from the Horny Toad Restaurant said he had a real simple solution to the problem, pointing out the town had worked for a year to develop guidelines.
Imel said every business must substantiate parking for its site and noted how Harold's was allowed to use its parking lot for more than parking.
He said if there's inadequate parking for an event, the town shouldn't issue a permit.
He also mentioned the noise caused by motorcycles from the Hideaway and said people don't want to sit out on the patio.
"The town has let this get out of hand," said Imel, adding, the arts and crafts vendors hurt retailers that are open year 'round.
He said all of the special events seem to be concentrated in one area of the town core and asked, "Is this what Cave Creek wants? It's more than just noise."
Abujbarah noted previously the town was worried about conflicts between businesses and residents but now there were conflicts between businesses as well.
Councilman Steve LaMar said his personal pet peeve is when Rancho Mañana has music he can't sit on his back porch.
"Last Saturday, I couldn't sit on my back porch," said LaMar, noting the music was coming from farther away.
He said people are playing volley ball at Big Earl's with rock and roll blasting until 2:30 a.m. and "all of a sudden there are tons of people complaining."
LaMar said business people are saying the arts and crafts are hurting their business, there are parking issues and debate amongst the business community. "It's not just a noise problem."
Pointing out there are signs "all over the place," LaMar said, "Special events is a misnomer. There's nothing special about them. We're having them all the time. There's got to be a balance."
He said the town was beginning to look like a giant "park and swap."
Addressing the noise issue, LaMar said, "Either we're taking the readings wrong or the level is too high. People are getting pissed."
Councilman Dick Esser said, "I really came here to listen. A few years ago we encouraged all these events. With that, it brings things that are not acceptable to residents."
Stein reiterated when he addressed every complaint the readings were all in compliance and said. "I agree we have a problem. I dislike getting the phone calls as much as the rest of you, but I get paid to deal with it."
He said, "Whatever council decides, I will enforce."
Town Attorney Marlene Pontrelli said she liked the idea of not amending the ordinance right away, suggested adopting an ordinance that stays the current ordinance and use a temporary ordinance for six months, drop the dB level, noting two minutes "is rather long" and recommended readings of five seconds over 15 minutes.
Dave Anderson, former owner of Cave Creek Coffee Company, who was central to the town's previous noise concerns, prefaced his comments with, "I didn't have anything to do with this event."

He said, "As you know this is a contentious situation that will not make everyone happy."

Calling traffic issues a "no-win situation," Anderson, who still co-produces some shows at Harold's and Rancho Mañana, told council, "Your hands are full. You're going to have trouble gaining consensus."

Danny Piaquadio from Harold's stated "We're not here to upset anyone," and said Harold's holds 10 special events per year, some of which are town-sponsored, while he has obtained special event permits for other events.

Piaquadilo mentioned a host of events that would all "go away" if the town decides to reduce the dB level from 75 to 65 and said, "We need these events to survive."

Francia said the town took two years to come up with the ordinance but did so with the caveat "if it doesn't work out, we'd review it."

He went on to say Walmart contributes to the community but stated, "One thing it does not do is bring tourists to the community."

Bruce said people needed to be able to make a complaint to someone and pointed out most people don't want to wait until Monday to talk to someone.

Bruce also said Monday was currently the only quiet day in town and that there were events every other night of the week.

Francia said, "It doesn't cost anything for citizens to call me and complain. People have been very polite," and asked Sonoran News to publish that statement along with his phone number: 480-251-9010.

Stein said people may also call his office 480-488-6636 at town hall any time to make a complaint.

In closing, LaMar said the town didn't have to turn into a dump in order to have a thriving business.

He said, "I think we need to look at that. We need to take a long, hard look at how we encourage quality."

Responding to Anderson, who asked about the Running of the Bulls event, which he said brought international publicity to Cave Creek, Francia said it raised enough red flags but council was not in a position to do anything, since it was on private property.

Although he is a staunch advocate for private property rights, Francia said he believes those types of events should come before council.

As he prepared to leave, Piaquadio told council, "You're not going to make everyone happy with the noise. It's the way sound travels."