bY MARIELLE D. MARNE | OCTOBER 26, 2011
Sales, service, selection, AZ Cellular exceeds expectations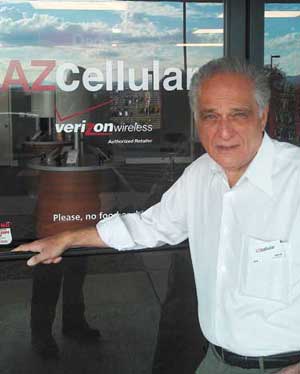 CAVE CREEK – It's true! Smartphones are all the rage. And if you haven't gotten one yet or need to upgrade, there's only one place to go – AZ Cellular. It's new in Tatum Ranch and it's an exclusive Verizon retailer, explained owner/president Ted Lubowski. It's full service with knowledgeable, highly trained personnel and has the lowest prices anywhere. Prices are set on a daily basis, so they are always most competitive.

If that's not reason enough to stop in AZ Cellular, consider this. It's earned its designation as the highest volume Verizon retailer in northern Arizona because of how it does business. Walk in and be immediately acknowledged. The store has places to sit and discuss your needs. "It's a beautiful store," Lubowski added. Ambiance aside, "People come to us because we don't steer them wrong. We don't tell them one thing and it's another."

So, sit down, the staff will review your current bills and tell you how you can save. Explain your needs and the experts will show you your options in phones, tablets, accessories. Need to make a payment? It will post immediately at AZ Cellular and no service charge to do so. Matter-of-fact, all services are free. Transfers, training, repairs? (Parts are always 25 percent off.) They've got you covered. "One thing we will never do is tell the customer to call Verizon," Lubowski assured. "If a customer has a problem we can't resolve, we get on the phone and then walk the customer through what he needs to do."

If you're looking to save money on your landline, AZ Cellular offers a $20 deal that includes long distance. What a bargain!

Check them out online at azcellular.com or stop in the showroom (open seven days) at 29455 N. Cave Creek Rd. Phone 480-473-5501 for hours.
OCTOBER 26, 2011
"Come Paint With Me" means exactly that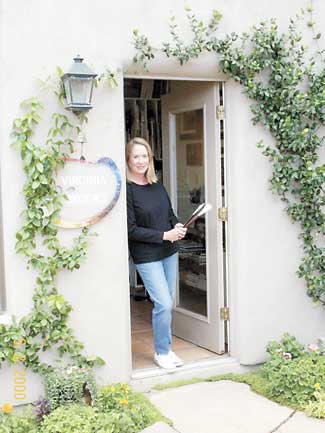 CAREFREE – Virginia Brooks has long been a fixture in local art community, participating in the Sonoran Art League's Hidden in the Hills Studio Tour since its inception, at the Thunderbird Artists Fine Art and Wine Festivals in Carefree, and other fine art events. Thus, "Teaching art has come very naturally to me."

But Brooks wanted to take a very different approach. "Large classes make for a difficult way to learn, so I offer private and semiprivate lessons. We paint together, using the same subject, and I explain everything I am doing, step by step. All ages find an encouraging environment at my studio."

All supplies are included: canvas, paint, brushes. "Painters can try oils without having to purchase the materials." And many of them, after having experienced the pleasures of painting in oils, choose to make the permanent switch to the medium.

"I have made wonderful new friends in the process. Painters are invariably fun, creative souls, whether they are rank beginners or the advanced painter wanting to learn something specific. The people who paint with me complete a painting in just two sessions and it is a true pleasure to watch them grow."

Brooks will be exhibiting at the Carefree Wine and Art Festival Nov. 4-6. She also encourages aspiring painters to visit her at Studio#16, during the Hidden in the Hills Studio Tour, Nov. 18-20 and 25-27. "No true art lover should miss either of these events," she added with a smile.