BY LINDA BENTLEY | OCTOBER 19, 2011
Supporters rally around Pearce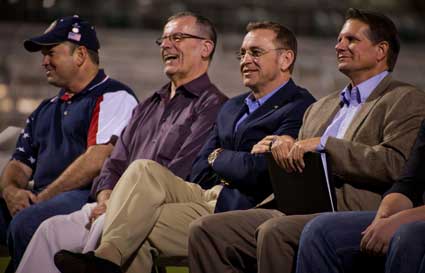 Lisa Pearce kicked off the rally at Hohokum Stadium on Friday by singing the national anthem, while the Jones Boys provided patriotic entertainment between rounds of speakers, including this group: (from left) Sen. Frank Antenori, R-Dist. 30, Arizona GOP Chair Tom Morrissey, former U.S. Rep. Matt Salmon and former state Sen. Chuck Gray. Photos by G. Russel Childress


MESA – Tea Party leaders, elected officials and citizens turned out en mass at Hohokam Stadium on Friday night for a rally in support of State Senate President Russell Pearce, R-Mesa, who is fighting to keep his senate seat in a controversial recall election.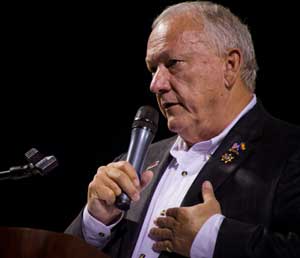 Pearce, who authored SB 1070, Arizona's tough anti-illegal alien law, which was adopted by the legislature and signed by Governor Jan Brewer last year, has been confronted with a recall election led by an out-of-state labor union organizer and Democratic Party activist.

The recall effort is being funded and supported by a host of far-left organizations, including: "Voice of the Revolution," "Festival de Resistencia" and "Free Alto Arizona."

While those who wish to see Pearce removed from office because of his stance against illegal immigration knew a Democrat could not defeat Pearce. Instead, they recruited RINO (Republican In Name Only) Jerry Lewis to run against Pearce in the predominantly Republican district.

Lewis is against SB 1070 and said he would have voted against the bill and went so far as to compare Arizona's efforts to curb the problems associated with massive illegal immigration to racial segregation in the South during the 1960s.

From his comments during a recent debate, it is clear Lewis believes our country cannot survive without illegal alien labor.

Despite modest estimates of long-term unemployment hovering at 10 percent, Lewis still believes illegal aliens are doing the work Americans won't do.

Pearce has spawned a nationwide movement with a number of states following Arizona's lead in adopting Arizona-styled anti-illegal immigration laws.

Meanwhile, Pearce has been targeted by radical left-wing groups from across the country, including groups of non citizens from both inside and outside Arizona.

Not just in Arizona, but across the nation, the far left has become obsessed with recalling Pearce and is pouring money into campaigns trying to force him from office.

To donate money to help save Pearce from recall, visit RussellPearce.com, as early voting has already begun for the Nov. 8 Recall Election.