BY PETE MOHR | OCTOBER 19, 2011
ND Saints, 41– CSHS Falcons, 14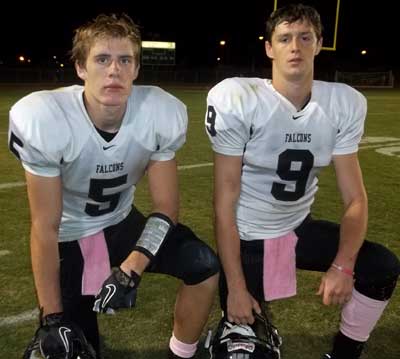 Two first half touchdown receptions by senior Connor Cozen (left) and a third quarter INT by senior defensive back Gavin Musfeldt weren't enough, as the Notre Dame Saints outscored the Birds, 27-0 in the second half, winning for the first time in four meetings with the Falcons, last Friday night, Oct. 14, at Scottsdale Community College. Falcons' last home game of 2011 will be this Friday night, Oct. 21, 7 p.m. kickoff, at "Senior Night." In a pre-game ceremony, the late Morgan Boisson (CSHS '06) will be honored by Cactus Shadows' presentation of his #66 jersey to his parents Cyril and Elizabeth Boisson. Escorting the Boissons to the mid-field coin toss will be Trace Stephens and Matt Williams (CSHS '07) both '05 teammates of Morgan's.
OCTOBER 19, 2011
J. J. Gresco Wins Golf State Championship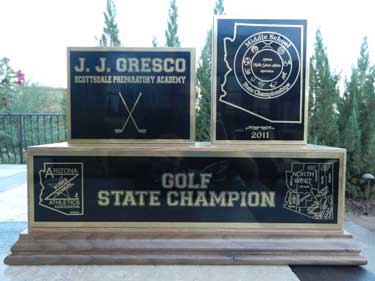 J. J. Gresco, of north Scottsdale, won the 2011 Arizona Middle School Athletics Association (AMSAA) Golf State Championship, held at the Sundance Golf Club in Buckeye, Arizona – the same course used for the 4A High School State Championship.

Representing Scottsdale Preparatory Academy, he shot a 2-over par 74 to win the boys title by seven shots over Eric Ghim of Goodyear Trinity Lutheran School. Phoenix Shea Middle School student Joe Digiacomo was third with 82.

The AMSAA is the local chapter of the National Middle School and Junior High Athletic Federation (NMJAF), a nonprofit organization that builds and supports athletic programs in schools. Through its local chapters, the NMJAF produces championship tournaments for middle school sports in baseball, basketball, golf, football, softball, soccer, volleyball, track and field, etc.

Congratulations to J. J. on a great accomplishment!