BY LINDA BENTLEY | OCTOBER 12, 2011
Cave Creek Tap Haus emerges 'Somewhere in Cave Creek'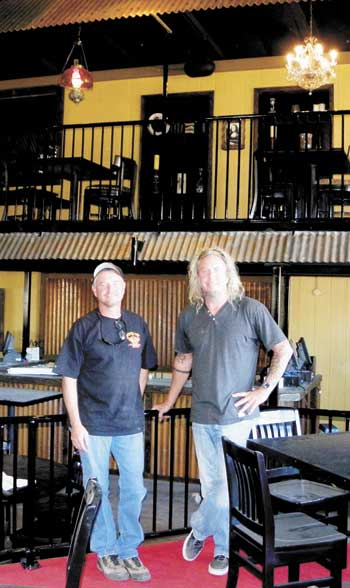 Partners Jim O'Toole (l) and Mark Bradshaw showed off the last few weeks of efforts toward turning the old Cave Creek Roadhouse into Cave Creek Tap Haus, an old-European styled steak, seafood and pasta restaurant with a whole lot of appeal for the beer connoisseur.
Photo by Linda Bentley


CAVE CREEK – Locals may have noticed something brewing over at the former Cave Creek Roadhouse and Hammerhead Jack's location.

Since Jim and Lisa O'Toole purchased the property at 6900 E. Cave Creek Rd. in May 2010, which had been sitting vacant since Hammerhead Jack's closed in 2008, there was hope on the horizon that Tequila Roadhouse would be opening this year at that location, as a sign on the side of the building once indicated.

However, that project came to a halt when the LLC's managing member Harold Rothstein was killed in a car accident on Carefree Highway in May.

Jim O'Toole eventually teamed up with Mark Bradshaw, who owns the Hideaway Grill, to transform the property into Cave Creek Tap Haus, an old-European styled steak, seafood and pasta restaurant.

The bar will boast 60 different tap handles, another 40 different styles of microbrews along with domestics.

According to Bradshaw, it will be a beer connoisseur's paradise.

Eventually, Bradshaw said they plan to add facilities for their own microbrewery on site.
Cave Creek Tap Haus incorporates the Hideaway's, "Somewhere in Cave Creek" line in its logo along with the tag line: "A Place Where Good Friends & Neighbors Meet."

The restaurant will be open for lunch and dinner daily and for breakfast on weekends.

Bradshaw said they will be serving a surf & turf happy hour buffet on weeknights with acoustic entertainment and will host live entertainment on Friday and Saturday nights.

They added a small dining balcony overlooking the main dining room to break up the cavernous space inside the building and will be adding some additional decor by the end of next week.



According to Bradshaw, the art work they hang in the restaurant will be provided by a nonprofit organization for which they will hold periodic art auctions to raise money for the beneficiaries of the organization. It will also provide a rotating source of art for the restaurant.

Although it sounds ambitious, Bradshaw said they plan to be open before the first weekend in November.

Considering the transformation that's taken place so far over the past few weeks, they may just make it.