OCTOBER 12, 2011
Gun fire and theater to rock Cave Creek's Wild West Days Nov. 5-6
Wild West Days Parade entry deadline Oct. 20
CAVE CREEK – Wild West Days 2011 will feature Arizona's first Gun Down by Sundown on November 5 and 6 in downtown Cave Creek.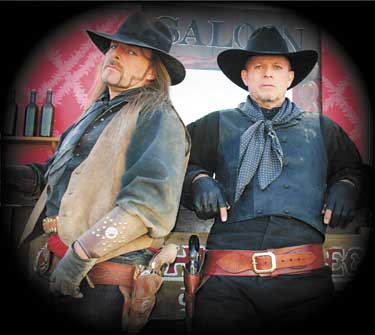 Gun Down by Sundown will showcase numerous gunfighter groups from Arizona and the nation.
According to Chaz Lee, director of affairs and stunt coordinator for Six Gun Entertainment, gunfighter groups will stage and perform gunfights every hour on the hour from 11 a.m. – 4 p.m. Saturday and Sunday, Nov. 5 – 6. The gunfight competition includes first, second and third place cash prizes which will be awarded at 5 p.m. on Sunday, Nov. 6.

Wild West Days is a unique four-day venue filled with family entertainment, gunfighting, period vendors, a period costume competition, live music, Walk for 100, bathtub races, pig races, bull riding, Miss Wild West Days and numerous horse-related activities and festivities. Proceeds benefit several local organizations.

For more information visit http://wildwestdayscavecreek.com or contact Chaz Lee at 602.317.8282.
Wild West Days Parade entry deadline Oct. 20
When: Sat., November 5 from 9 – 11 a.m.
Check-in/Staging: 7 – 8 a.m.
Where: Cave Creek Rd. at Spur Cross Rd. Cave Creek, AZ
Cost: $40 per entry
Payable to: Wild West Days/ Cave Creek Chamber of Commerce
Entry Deadline: October 20
Mail entry to: Wild West Days, PO Box 4458, Cave Creek, AZ 85327
Pay in Person: The Document House, 6217 E. Cave Creek Rd., Cave Creek
Questions? Call Leslie 602-432-8594.
For registration: http://wildwestdayscavecreek.com/main/wp-content/uploads/2011/06/2011-Parade-Entry-Form.pdf