BY MARIELLE D. MARNE | OCTOBER 12, 2011
Dive into EcoBlu Pools for new or remodeled pools, spas, ponds and BBQs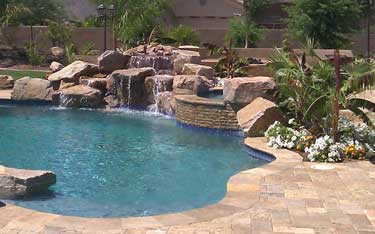 CAVE CREEK – Who doesn't want to enjoy a backyard oasis? If you're thinking about a new pool, updating an existing one, putting in a spa, soothing water feature, pond or even a BBQ island, EcoBlu Pools can help. With summer behind us, this is the optimal time. "Concrete cures better when it's cooler," explained owner Kevin Hahn.

It's the attention to detail that has made Hahn's company so successful. Clients sense his honesty, his integrity, his work ethic. As such, he receives much of his business from word of mouth referrals. That speaks volumes.

If you already have a pool, know this: the industry has evolved. Pumps are more efficient than a decade ago. "A new pump will pay for itself in six months," Hahn said. Plus, APS offers rebates! Additionally, a leaky pool is a wasteful pool. "With the auto-fill feature, many people don't realize they have a leak," he said. Let the pros at EcoBlu Pools check it out and not only will you save on your water bill, but you may save yourself a headache down the road.

EcoBlu uses the latest in technology, and all design work is in 3-D. That may seem insignificant, but it's a huge benefit to clients who can see exactly how the finished product will look ... right down to the landscape. You won't find the cookie-cutter, impersonal pool companies using this software.

Discover for yourself how rewarding it is to work with a smaller, local pool company. The folks at EcoBlu Pools will be there from start to finish with the individual attention their neighbors deserve. Go online at ecoblupools.com or call 480-626-8200 to transform your backyard into an oasis.
BY MARIELLE D. MARNE | OCTOBER 12, 2011
Rick Engineering, a long-tenured, long trusted company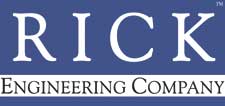 PHOENIX – When you need the services of a civil engineering company, choose someone who has been in the business a long time. Since 1955, Rick Engineering Company has been serving its clients throughout Phoenix. They've offered their expertise in both the residential and commercial arenas, on everything from single family homes to apartment complexes, from golf courses to industrial parks. As such, call Rick Engineering if you need anything from flood plain drainage advice to traffic impact studies to surveying. They know the regulations, they've established great rapport with personnel from various municipalities.

Regarding the town of Cave Creek, Chris Patton, Rick Engineering's Phoenix office president, offered of its employees in the engineering and planning and zoning departments, "Cave Creek is awesome to work with. We'll work with them anytime. They could not be more helpful."

And while typically Rick's staff works with those in the construction industry, from whom they've developed a following with a roughly 85 percent repeat business rate, they often find themselves advising homeowners. "We're a great resource to bounce concerns off of," said Patton. And if you are considering building your own home, he advises, "It's helpful to have us in early on in the project because of issues that can arise later if not addressed at the onset."

Whether you're a builder, contractor, architect or homeowner who may need some guidance in some aspect of civil engineering, Rick Engineering is truly an invaluable resource. "We're a conservative company," Patton added, "We're organically grown. We've got reliable, long-tenured people working for us."

To find out more about Rick Engineering Company, phone 602-957-3350 or visit www.rickengineering.com.
OCTOBER 12, 2011
BBB's New Campaign "We Invented This Whole Idea" Promotes Trusted Business Listings on SearchBBB.org
PHOENIX – As the Better Business Bureau (BBB) approaches its 100th year anniversary in 2012, BBB Serving Central, Northern and Western Arizona has launched a new campaign affirming its role as the most reliable source for finding lists of trustworthy businesses in Arizona.

"We have always verified the credibility of companies and believe it's a story that must be retold as the public gets distracted by others who use pieces of the platform we created and have offered for nearly a century," BBB President/CEO Matthew Fehling said.

The campaign, "We Invented This Whole Idea", is scheduled to hit radio and TV airwaves in early October and invites the public to use www.SearchBBB.org to obtain lists of trustworthy, local businesses. The site allows for easy searches by industry and provides search results featuring BBB Accredited Businesses who meet and maintains BBB's Standards for Trust.

"So whether you're looking for a list of trustworthy mechanics, contractors, roofers, movers … you name it, start your search with Better Business Bureau at SearchBBB.org. After all, we invented this whole idea," Fehling said.

For more information or to schedule an interview with a BBB spokesperson, contact Felicia Thompson at 602-212-2237 or fthompson@arizonabbb.org.

About BBB Serving Central, Northern & Western Arizona
BBB is an unbiased organization that sets and upholds high standards for fair and honest business behavior. Businesses that earn BBB accreditation contractually agree and adhere to the organization's high standards of ethical business behavior. Incorporated locally in 1938, today your BBB serves communities in Central, Northern and Western Arizona, supported by over 9,600 BBB Accredited Businesses. BBB provides objective advice, free business BBB Business ReviewsTM and charity BBB Wise Giving ReportsTM, and educational information on topics affecting marketplace trust.