Guest Editorials
BY LARRY KLAYMAN | OCTOBER 5, 2011
Let's buy Fox News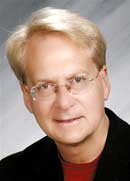 During the early years of Fox News, conservatives cheered a "new network" that told the other side - their side of the so-called story. Serving as a counterweight to CNN's left-wing propaganda, Fox News took off during the years of the Clinton administration, when Bill and Hill's myriad scandals created a viewership that was riveted to the television screen. Indeed, lots of the depositions I took of Clinton White House and government officials found their way onto prime-time news shows, and in many ways I helped created a strong audience for the network.
Keep reading ...

BY MENCKEN'S GHOST | OCTOBER 5, 2011
So you still wanna move to Europe, you moronic moocher?
"Househunters International" is a show on HGTV about people buying homes in other countries. A recent segment was about a thirty-something American musician living in New Orleans with his chubby French wife and their young son. Not able to make a living by blowing a trumpet – surprise, surprise! – he was working as a carpenter, a job that the whiner didn't like, no doubt because he feels alienated from his true nature when he has to do manual labor, to paraphrase Karl Marx, the dumbest-smartest intellectual in the history of the world.
Keep reading ...