BY LINDA BENTLEY | OCTOBER 5, 2011
Walmart celebrates grand opening in Cave Creek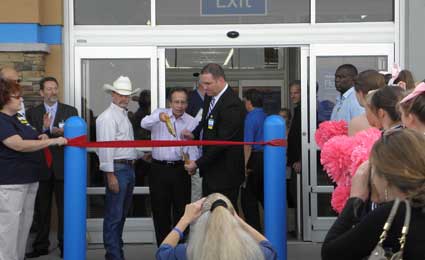 Cave Creek Mayor Vincent Francia and Walmart Store Manager Matt Mower invited the community to shop in the new Cave Creek Walmart store following a grand opening celebration and ribbon-cutting ceremony on Wednesday morning. Photo by Linda Bentley

CAVE CREEK – At 7:30 a.m. on Wednesday, Walmart had a parking lot full of Walmart employees, members of the community, along with Cave Creek town council and staff, to celebrate the grand opening of Walmart in Cave Creek.

The ribbon-cutting ceremony was preceded by performances by the VFW Post 6310 Color Guard, the Cactus Shadows High School marching band and cheerleading team, with the national anthem sung by a Lone Mountain Elementary School second-grade class.

Walmart Regional General Manager Scott Doepke, Store Manager Matt Mower and Market Manager Peter Abbott each thanked the town, and store associates for helping get the store open on schedule, while welcoming the community to shop.

Mayor Vincent Francia told the crowd, although CSHS students were too young to remember, in 1962, four musicians came to this country from overseas and changed the world, referring to the Beatles.

He said, in 1962 Sam Walton opened a store in Bentonville, Ark., which also changed the world.

Before cutting the ribbon and opening the store to shoppers, Walmart donated more than $10,000 to various nonprofit organizations, including $2,500 to the Special Olympics of Arizona, $2,000 to the Foothills Food Bank, $500 to the American Legion in Cave Creek, $1,000 to New Exodus, Inc., $500 each to Cactus Shadows High School and Lone Mountain Elementary School, $2,000 to the Cave Creek Museum and $2,000 to the Foothills Caring Corps.