BY LINDA BENTLEY | OCTOBER 5, 2011
Council invites IRC to hold public meeting in Cave Creek
Proposed options for new district boundaries appeared to place Cave Creek and Carefree into a vast, sparsely-populated district
CAVE CREEK – During Monday's council meeting, Mayor Vincent Francia announced Walmart's grand opening this Wednesday at 7:30 a.m. and reminded citizens a Taste of Cave Creek, "along with another event" will be the weekend of Oct. 15 and 16.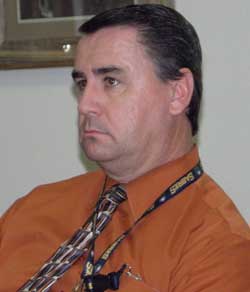 Maricopa County Sheriff's Capt. Barry Roska (r) introduced himself during Call to the Public as the new District 4 commander.

Roska praised the work of Lt. Rich Burden, whom he said will be remaining as deputy commander, and stated he was here to enhance Burden's efforts.

With Councilman Dick Esser absent, council voted unanimously to approve the second reading of an ordinance adopting the 2010-2011 amendments to the town's tax code.

Council also voted unanimously to approve the second reading of an ordinance authorizing the town manager to execute a development agreement between the town of Cave Creek and VRE Carefree, LLC, which will allow the developer additional time, beyond what the building department may authorize, to complete the Village at Surrey Hills without having to obtain new permits.

Town Manager Usama Abujbarah said the only changes were the ones requested by council during the first reading.

Councilwoman Shelley Anderson asked if anyone had any concerns or feelings about the agreement running with the land.

Town Attorney Fredda Bisman stated that was typical for development agreements.

Councilman Jim Bruce added if the owner wanted to sell the property, it would be difficult to sell without the agreement running with the land.

During public comment, Reg Monachino stated he would like to see the project completed. "However," he said, "the approval of the development agreement before you is inadvisable on two counts."

First, Monachino said it sets a precedent and asked how long it would be before the other two similarly situated developers approached the town for similar treatment.

He said, "The worst aspect of the proposed agreement … is the suggested intervention of town government in a private project. And the intervention is in the form of providing financial assistance to a developer. The town would be providing financial assistance to someone who can't sell his product. In other words, a bailout."

Monachino concluded, "Mr. Sharpe believes the project is still viable. If that's the case, then I suggest that he obtain the necessary capital to complete the project."

In the spirit of compromise, Monachino suggested council continue the item to the Nov. 7 meeting and require the developer to apply and pay for new building permits only, noting he has already paid impact fees.

Paul Sharpe, representing VRE, said he was confused by the terminology Monachino used and said, "Bailout is not what we're asking for here."

Francia said the notion of precedent has been brought up, and asked Bisman if that would indeed be the case.

Bisman stated, in order to set precedent, there would need to be a project in a similar situation and said, "Unless it's the same circumstances, each case would be looked at on its own."

Councilman Steve LaMar, who moved to approve the second reading, said it was a "very good and attractive project" and stated he was not concerned about precedent.

LaMar said the agreement was being executed in good faith, all the town was doing was not making the developer pay fees twice and there was no taxpayer money involved.

Vice Mayor Ernie Bunch said half-finished projects, or whatever degree of incompletion they may be in, are not good for the community and he supported doing whatever they could to help.

Council voted unanimously to approve funds not to exceed $43,220 to hire Larson Excavating to replace a section of water line along New River Road between 50th Street and Cave Creek Wash, which Utilities Manager Jessica Marlow said was improperly installed long ago and has caused major problems, including three outages this summer.

Council nominated and appointed officers and members of the town of Cave Creek to the Town of Cave Creek Municipal Property Corporation Board of Directors, which Town Clerk Carrie Dyrek said needed to be done when council changes so she can file annual reports with the Arizona Corporation Commission. Dyrek assured council there was no money or any meetings involved in being corporate officers and members of the board.

The Independent Redistricting Commission's (IRC) recently posted "What If" maps show proposed options for new district boundaries, some of which appeared to place Cave Creek and Carefree, either partially or entirely into a vast, sparsely-populated district that includes Miami, Globe, Holbrook and Prescott.

A citizen following the redistricting process requested a resolution be placed on the agenda to invite the IRC to hold a public meeting in Cave Creek.

Although the resolution passed by a vote of 4-2 with Bruce and LaMar dissenting, there is no guarantee the IRC will take the town up on its offer.