BY GEOFFREY PLATTS | FIRST PUBLISHED JUNE 1999 | OCTOBER 5, 2011


Crotalus in the Cabin
A remarkable encounter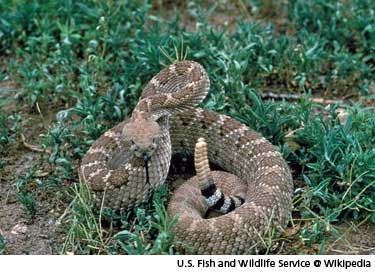 I had a remarkable encounter last evening at about 8 p.m. The cabin front door had been left open, and as I was scribbling away, there was an un-mouselike rustle in some papers on the floor a yard to my left. In the soft light of the kerosene lamp, I at last made out half of its bright-colored length. A four-foot black-tailed rattlesnake had come in to welcome me back from a visit to Patagonia in the south of the state.

As I shifted instinctively away from Old Crotalus (Western diamondback rattlesnake – Crotalus atrox; see related Wikipedia article) it twitched and gave the tiniest of rattles. When the adrenaline had lowered, I began writing again, knowing I'd no other choice but to relax, speak a welcome to the night visitor and leave it to its own devices.

(Poor D. H. Lawrence succumbed to his primordial fears and threw a log at his Sicilian snake at the waterhole and later wrote in "Snake" his affecting and famous poem, "And so I missed my chance with one of the lords of life and I have something to expiate – pettiness." Though startled, like Lawrence, I felt honored by the serpent's electrifying visit.)

Well, it vanished (under the nearby bed?) and soon afterwards I got up from the chair to light a hurricane lamp so as to better illumine my walkway around the cabin. I certainly stepped gingerly!

Ten minutes later, about to go outside into the dark, I spotted my welcoming amigo just below the front step, with that mesmerizing triangular head swaying towards the lamplight. Minutes later, fully aware of my looming upright presence, it calmly crawled off, in a deliberate and dignified fashion, over the fallen leaves and up the cliff bank. Thus marked my eleventh encounter this summer with the rattling snakes that, when respected and understood, invariably prove to be the most mellow of creatures.

Author Geoffrey Platts is a friend of and a resource for the Desert Awareness Committee of the Desert Foothills Land Trust, now partnered with the Foothills Community foundation. He has made the Foothills desert his heart-home for the past 35 years.

Editor's Note: The above article's author, Geoffrey Platts, an inveterate poet, hiker, author, preservationist and gadfly, met an untimely death at age 62 in December, 2000. The cause was accidental drowning while attempting to save a companion. Thousands of people whose lives were touched by him mourned the loss. In the words of one of his many friends, Margaret Stewart, "Geoffrey Platts was the conscience of the Foothills—the person who called us to task when he saw the desert in danger. He never minced words about the environment. He always thought of Nature with a capital N."

To see more about Geoffrey Platts, refer to:
"There's something about Cave Creek - It's the People", by Gene K. Garrison, Chapter 18 entitled Geoffrey Platts.
"TREK, man alone in the Arizona wild" by G. Platts.
BY PETE MOHR | OCTOBER 5, 2011
Staff Sgt. W.P.R. Frame, Jr., Scottsdale, honored as USMC "Security Guard of the Year"
QUANTICO, Va. – September 28, 2011. In an awards ceremony at Quantico Marine Base, north Scottsdalian Staff Sergeant W.P.R. Frame, Jr. was honored as "Marine Corps Security Guard of the Year" for his meritorious service at the United States Embassy, Buenos Aires, Argentina, from October 2009 – September 2010. Historically, Marines have provided security for U.S. citizens and classified material at American embassies and consular facilities worldwide. SSgt Frame is currently assigned to the U.S. Embassy, Cairo, where he serves as Assistant Detachment Commander.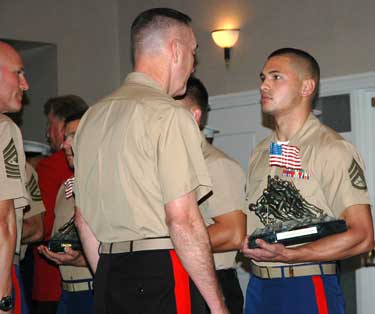 Frame received his award and accompanying "Raising the Flag at Iwo Jima" statuary, the symbol of the Marine Corps, from General Joseph F. Dunford, Jr,, Assistant to the Commandant, and Sergeant Major Michael P. Barrett (l). The award citation reads, "SSgt Frame's valuable and lasting contributions to the operational readiness and training of the detachment were truly a testimony to his dedication and determination."

"R.J.", as Frame is known to his family and friends, was born in Scottsdale, April 1, 1988. He is the son of longtime Scottsdale real estate proprietor/investor W.P. "Rudy" Frame and Yvonne de la Fuente, north Phoenix. Educated in Scottsdale public schools and a 2005 graduate of Accelerated Learning Center, Phoenix, SSgt Frame was a 2006 enlistee in the Marine Corps.

In September 2007, Frame was deployed to Iraq, serving in the 3rd Light-Armored Reconnaissance Battalion as a vehicle driver, turret gunner and Combat Information Center watchstander. Following his March 2008 return to the U.S., he received orders to the Marine Corps Embassy Security Group. His first embassy assignment was to Buenos Aires, Argentina in June 2009.

Acknowledging his award, SSgt Frame stated to Sonoran News, "On behalf of all my fellow Marines with whom I've been privileged to serve, I accept and appreciate this unexpected recognition. The current political uncertainties in Cairo give our embassy there all the incentive we need to ensure our professional and military preparedness."

Upon the 2012 expiration of his current enlistment, SSgt Frame plans to return to civilian life, associating with his father's business and joining the U.S. Marine Corps Reserve.

Congratulations, "R.J."!