BY PETE MOHR | OCTOBER 5, 2011
4th Quarter rally sparks 28-21 win over Goldwater; Falcons host Horizon Huskies, Thursday night, Oct. 6
Kinsler-to-Cozen 34-yard key reception sets up 'Birds for Bryan Lynn's winning TD with two minutes left to play!
If, indeed, "A picture's worth a thousand words!," try on the accompanying three
photos. "The Komeback Kids" did it again, Friday night, Sept. 30, scoring 14 unanswered points in the 4th quarter to overhaul the visiting Goldwater Bulldogs, 28-21.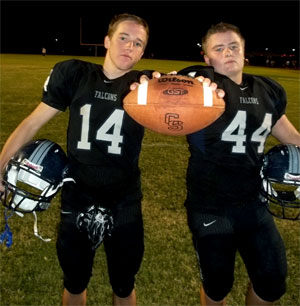 Photo by Pete Mohr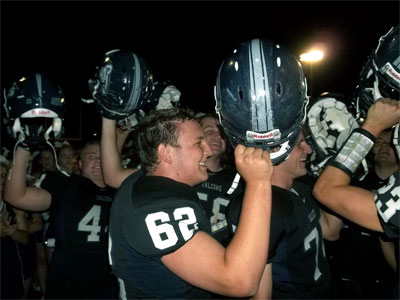 Photo by Pete Mohr
Playing this Thursday night in respect of Yom Kippur, the Jewish high Holy Day,
The Falcons, now 2-4, will try to win their third consecutive game by besting the
visiting "Huskies" from Horizon High School. Thursday night, Falcon fans – not
the usual Friday date.

Strike them barking "Sled 'Dogs", Falcons!
BY PETE MOHR | OCTOBER 5, 2011
CSHS vs. HORIZON

When: Thursday, Oct, 6,
7 p.m. kickoff
At Falcon Stadium
NOTE THURSDAY DATE!

Horizon High School: Greenway Road and 56th Street, Phoenix
Nickname: "Huskies"
Colors: Green and Gold
Division 2 – Section III
Head Coach: Steve Casey
2010 record: 7-4 [lost to (Tucson) Ironwood Ridge, 16-35, in 1st Round of State Playoffs]
2011: (six games): 3-3 ["common opponents": Sept. 2 (H) beat Goldwater, 48-7 (Goldwater played without ten starters); Sept. 23 (H) lost to Pinnacle, 28-49
Tonight's game: first meeting between the two schools.
Huskies to watch: #7 Kyle Woods, QB, SR; #9 Dushawn Brown, WR, SR; #3 Ryan Neel, return specialist, JR.
What Falcons must do to win: Head Coach Greg Davis, "Horizon's team speed is excellent. That's my biggest concern. On offense, we must control the ball and win time of possession. Run the ball 'downhill' between the tackles and break some long gainers off our short passing patterns. Defensively, we have to be disciplined to our basic scheme and stay in our correct position alignments. If we can contain their playmakers, we should be able to put up enough points to win."
Prediction:"Dino", the sportswriting dinosaur, predicts: "Speed kills!" So goes the highway safety admonition. I want to be wrong, but I fear that Horizon's "speed" will "kill" the HomeBirds by 10 points, say … 38-28. Through six games, I'm 6-0. C'mon, Falcons! Drop me to 6-1.