OCTOBER 5, 2011
Beaded art and fresh starts specialties of local artist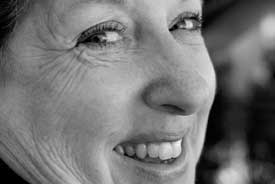 CAVE CREEK – What do beaded tapestries, "green art," and decorative birdhouses have in common? Artist Corinne McAuley from Surprise.

McAuley makes beadwork fine art, through her elaborate tapestries then relaxes from the intensity of beading by creating whimsical handcrafts, such as birdhouses and recycled "green art."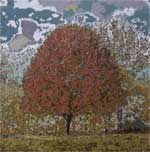 Her tapestries resemble paintings, but they're intricately stitched with a myriad of beads. "I love working with them," McAuley explains. "There are so many possibilities of form, shape and color!" As seen in this piece titled "Fall Fire" which consists of almost 43,000 beads.

Some of McAuley's tapestries are beaded abstracts. Others resemble photographs. Once starting a tapestry, it can take 4-6 weeks to complete, and she works on nothing else until the tapestry is completed.

One of McAuley's goals is to have a tapestry represented in a museum.

McAuley also gives a fresh start to discarded and recycled items, such as discontinued frame samples, jewelry, belt buckles and chains by incorporating beads to create "green art."

When McAuley completes a piece of beaded art, she takes a break and moves to her crafts. "I enjoy relaxing with fun, quaint items such as birdhouses, miniature furniture, Day of the Dead items and recycled 'green art ,' she explains.

A few years ago she donated several of her birdhouses to Eve's Place, a charity that provides safety and empowerment-based programs to victims of domestic violence. "I wanted them to have color and beauty to take them to a better place." When a woman leaves Eve's Place for a new home, a McAuley birdhouse goes with her as a housewarming gift.

McAuley has participated in the Hidden in the Hills studio tour for the last two years. "As a newcomer to the show I received great deal of support from my peers plus the Sonoran Arts League staff and board. When you know people care about you and your work it motivates you to give back to the League and the community."

For more information visit: www.corinnemcauleyfineart.com or e-mail: corinnemcauleyfineart@msn.com

The 15th Annual Hidden in the Hills Artist Studio Tour is scheduled the last two weekends in November: Friday-Sunday, Nov. 18-20 and Friday-Sunday, Nov. 25-27, 10 a.m. to 5 p.m.
OCTOBER 5, 2011
LoCash Cowboys Coming to Cave Creek
Rowdy band on "This is How We Do It!" tour to perform Fri., Oct. 7 at Harold's Corral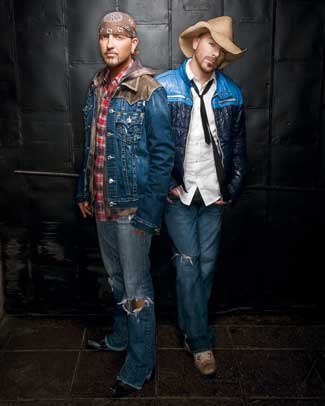 CAVE CREEK – Cave Creek may never be the same. LoCash Cowboys, the country rock band that is gaining notoriety nationwide for its high-energy concerts, will perform a special outdoor concert on Fri., Oct. 7 at Harold's Cave Creek Corral, 6895 E. Cave Creek Road, in Cave Creek. Gates open at 8 p.m. and the rowdy cowboys will take the stage at 9 p.m.

"This is a band that is on the verge of something big," said Danny Piacquadio, co-owner of Harold's Corral. "They are all about fun, and they're getting great reviews in each city they perform in. We're thrilled that they will make a stop here during their "This is How We Do It!" tour."

Preston Brust and Chris Lucas are the dynamic duo behind the energetic band whose music combines southern rock, country, bluegrass, gospel, rock 'n roll, straight up rock, and hip hop. The core of the band's new CD, This is How We Do It!, is a series of high-energy manifestos, songs that celebrate the unabashed fun of the LoCash lifestyle, the conviction that the best things in life are free or at least low-cash.

"We're known for just going out and having a good time," Lucas said. "We read each audience. We don't really have a set list. We just go out and make it fun."

The list of those LoCash Cowboys have shared bills with continues to grow – Toby Keith, Blake Shelton, REO Speedwagon, Tom Petty, Gretchen Wilson and many others. They toured the country headlining Maxim's Red Man Roadhouse Tour. Their TV appearances have been as varied as they've been exciting, ranging from Total Nonstop Action Wrestling's SlamiVersary, where they performed before 10,000 screaming fans at Nashville's Municipal Auditorium, to Fox News Network's New Year's Eve Broadcast before two million people in Times Square. All got the LoCash treatment.

"We're like stage Marines," laughs Brust. "We walk out, take one look at the audience and attack. We never let up, whether it's a thirty-minute appearance or a four-hour show. The energy stays at a peak the entire time."

Advance tickets are available at www.Ticketmaster.com or at Harold's Corral. General admission tickets cost $10 and includes sales tax. For more details, call (480) 488-1906 or visit www.HaroldsCorral.com.

For more information about LoCash Cowboys, visit www.locashcowboys.com.