SEPTEMBER 28, 2011
Wounded Warrior Project's Phoenix Soldier Ride set for October 22
Meet local Marine Kyle Ruch, volunteer extraordinaire
The Wounded Warrior Project aims to honor and empower injured US servicemen and women. Soldier Ride, open to everyone, is a cycling event that helps wounded warriors get back on the road.

Wounded Warrior Project's Soldier Ride will take place October 22, in the Phoenix area. This cycling event, to help wounded warriors restore their physical and emotional well-being, also raises awareness for our nation's wounded warriors who battle the physical and psychological damages of war and gives the public a chance to ride alongside and honor these men and women.

The start and end location for the ride is Rodeo Park, 1590 E. Lost Dutchman Blvd. in Apache Junction, but the 47 mile ride covers much of the valley so if you want to show your support you are encouraged to attend the event. View the Phoenix Soldier Ride route map.

Schedule of events:
7 a.m. Registration and Packet Pick-up Opens
8:45 a.m. Kick-off Celebration
9 a.m. Ride begins
Post-ride – Community Picnic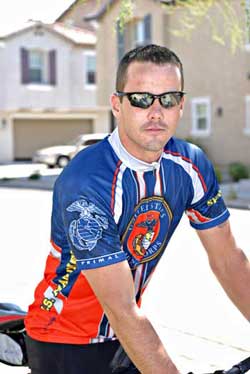 Meet Kyle Ruch! Through Kyle's experiences in the United States Marine Corps he has developed an enthusiastic passion for giving back to the men and woman of the United States Armed Forces. He has participated in several Tee It Up For The Troops golf tournaments across the country. Over the past year he sought out different avenues in which he could give back to these heroes in a bigger and bolder way. This search has lead him to the sport of road cycling and to the event called Soldier Ride which directly benefits the Wounded Warrior Project.

As he began to develop his new passion in the cycling world he boldly stated his new goal was to be, "To ride 100 miles in the Soldier Ride as well as raise $10,000 for the Wounded Warrior Project." He hopes to surpass his goal of raising $10,000.

Please help support the Soldier Ride by sponsoring Kyle Ruch, pictured. Donate here.

Or mail your donation (include Soldier Ride Phoenix – Kyle Ruch) to:
Wounded Warrior Project
4899 Belfort Road, Suite 300
Jacksonville, FL 32256
Attention Melissa Darin
For more information visit: soldierride.org.