Obituary


Randy Bowyer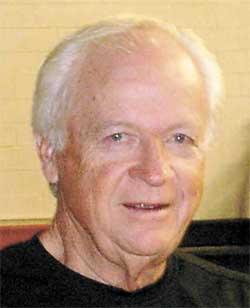 Randy Bowyer of Carefree, bigger than life in every way, lost his battle with brain cancer on September 17, 2011 at 77 years of age.

He was a long-time resident of Seal Beach, CA and the Silver Spring, MD area, where he played college football. In 1998 Randy designed and built the Carefree retirement home he has shared with his high-school sweetheart and wife of 50 years, Quincy. Its uniqueness led to his building casitas and garages for admiring neighbors.

After serving in the Navy as a sonarman on a minesweeper, Randy's full and exciting life included riding in the Great Centennial Montana Cattle Drive in 1989, witnessing Alaska's Iditarod Race, motorcycling, dirtbiking, camping, hunting, boating, fishing, and all water sports, including scuba diving and waterskiing, which he taught. Passionate for speed and off-roading, he built his own VW race cars for the Baja 1000, 1968-77, Mint 400, Parker 500, and more, eventually achieving membership in the prestigious Bonneville 200 MPH Club in 2004 through Griffith Racing Team of Seal Beach.

Randy is survived by wife Quincy, daughter TyRell Gallian and husband Rick and grandson Braxtan of Cave Creek, son Steele and wife Kim of Long Beach, CA, and brother Jack and wife Julie of Huntington Beach, CA, and niece Carmindy and nephew Quinn.

Memorials in lieu of flowers may be given to Grace Hospice, 2141 E. Broadway, Suite 118, Tempe, AZ, or "Save The Salt", Bonneville Salt Flats, 3673 Milliken St.,San Diego, CA 92122.