BY LINDA BENTLEY | SEPTEMBER 28, 2011
One man's quest for justice
'Before I answer your questions, I have one of my own'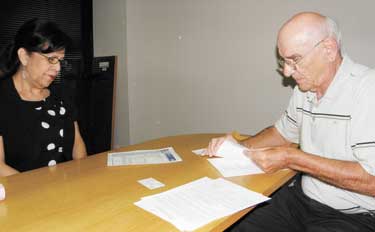 Sam Puskar is pictured filing a complaint with Arizona Department of Real Estate Assistant Commissioner Mary Utley against Carefree Real Estate Broker William Milliner, which may have resulted in the recent cancelation of Milliner's license. Photo by Linda Bentley

CAREFREE – Sam Puskar came to Sonoran News a few years ago with some allegations about his former business partner William "Bill" Milliner, a Carefree Real Estate Broker.
He also brought with him what looked like a ream of paper that appeared to document all of his allegations.

Puskar, a Cave Creek resident, said he was a partner of Milliner's in an LLC where he and others provided capital for investing in real estate transactions. According to Puskar, none of the money was ever used to invest in real estate but approximately $300,000 was withdrawn from the company's bank account by Milliner for "consulting fees" until it was all gone.

Bank statements and canceled checks for Sports Connections, LLC from 2007 and 2008 seem to corroborate Puskar's account of what transpired.

When Sonoran News called Milliner about the allegations, Milliner asked that the questions be put in writing and e-mailed to him, which we did.

Milliner responded promptly with, "Before I answer your questions, I have one of my own. When did Puskar last discuss this matter with you?"

Responding later to our questions, Milliner wrote, "Every matter that occurred during the period Puskar alludes to was done with his knowledge. He was provided a certified audit of all transactions and expressed no concerns regarding the expenditures."

However, according to Puskar, upon realizing he and the investors he personally recruited had been bilked out of all their money, the 74-year-old Puskar, a retired steel worker, said he used his pension to repay the other investors and accepted the entire loss on his own.
Puskar said all have been paid back in full, except his son, to whom he will continue making payments until he too is paid off.

Puskar's been a man on a mission ever since. He wants to expose Milliner for the fraud he claims Milliner is.

In June 2011, an article in the Arizona Republic by Michael Clancy stated Milliner "hopes to seek rezoning of his 220-acre parcel, due east of Cave Buttes Dam, as soon as possible," for his Cave Creek Buttes Resort & Golf project.

When asked which 220-acre parcel(s) he owned around Cave Buttes Dam and under what name it was held, Milliner said he never indicated he was the owner of the property at Cave Buttes and he and others had agreements with the owners of the property that allowed them to do due diligence to determine whether or not the property could be developed effectively, adding, "We made a determination it could not."


Milliner (l) was asked how he came to use 500 Easy Street in Carefree as the address for his broker's license when the owner of the property has claimed Milliner never had an office or lease of any sort at that location.

He responded, "In fact, I did have an agreement with the owner of the property at 500 Easy Street but because of the efforts of Puskar to cause me harm the owner just did not want anything to do with me and therefore the easy course of action for him was to distance himself from the matter."

When asked why his license was canceled on Sept. 20, by the Arizona Department of Real Estate, Milliner said it was based on A.R.S. 32-2126, requiring brokers to maintain a definitive place of business.

The law also states, "Change or abandonment of a business location without notice shall automatically cancel the broker's license and shall sever the license of any salesperson or associate broker employed by the employing broker."

Milliner stated, "You need to know that I and others are in the process of filing a law suit for slander against Puskar and that he has been ordered by the court to cease and desist all activities that could be considered harassment. For your information I have attached the order of the court."

The Injunction Against Harassment provided by Milliner indicates Puskar shall have no contact with the Plaintiff or other protected persons, including his wife Rosalie Milliner and Rachelle Boudinot, as protected persons, except through attorneys, legal process, court hearings, and as checked," although none of the boxes designating phone, e-mail/fax, mail or other were checked.

The order states, "For the protection of the plaintiff and other designated persons: Defendant shall not approach, confront, stalk, threaten, assault or harass plaintiff or either of the above named protected persons and shall stay away from all of them and their present and future residences, places of employment and personal property. Defendant shall not attempt to communicate with plaintiff or with either of the above-named protected persons for any reason or by any means, including by telephone, voice mail, e-mail or any other means of communication."

Puskar never contested the injunction when it was filed and says he has fully complied with the order since it was issued in May.

Milliner went on to say, "In closing, you should know that Puskar had an opportunity to pursue this matter in court and I have it from good sources he was advised not to. So rather than pursue the matter in court he is using you for his purposes."

However, because Milliner currently has several unsatisfied judgments that total more than $200,000, Puskar said spending more money on an attorney to file a civil suit against Milliner, would be throwing more good money after bad, since he didn't believe he could ever collect on a judgment.

Puskar said he is retired with lots of time on his hands and stated just because he cannot contact Milliner doesn't mean he can't expose him for what he asserts are illegal activities.
Meanwhile, a lawsuit was recently filed against Milliner by Jonathan Dubin, who claims he was injured in an accident in June 2011 when Milliner, driving a 1995 Chevrolet Silverado, sideswiped the 2010 Black Lincoln sedan, owned by Desert Rose Limousines, which Dubin was driving northbound on Cave Creek Road in Phoenix.

Dubin could not be reached for comment and his attorney did not return Sonoran News' call.