BY LINDA BENTLEY | SEPTEMBER 28, 2011
CCUSD – Can anyone spell cat?
Parents still peeved at district's spending priorities and sale of private contact information

CCUSD – Parents continue to express displeasure with Cactus Shadows High School World Language Department Lead, National Board Certified Teacher in World Languages Other than English, Spanish teacher Jocelyn Raught's command of the English language and has them wondering if Raught's spelling and grammar in Spanish may also be lacking.

A recent example included a lesson in "Place Vocabulary" for Spanish 3-4 students and the respective quiz placed on the Quia website by Raught.

On a list translating various places and things, such as attic, hallway, neighborhood, town/village, etc., Raught has the word country misspelled "coutnry."

Where students log in to take the "Quiz on Place Vocabulary," it states, "Take this quiz for credit on Place vocablary (sic). You may retake for more points. Be sure to put in the correct spelling and accents."

Once logged in, the quiz goes on to ask students to identify the "best place to by (sic) a car."

These examples were brought forward following Raught's letter to parents, in which she wrote, "I am please (sic) to have your student in my Spanish class. It is going to be a very exciting year – one in which you (sic) student will learn much and use the language in the classroom."

Raught's bio indicates she's been teaching at CSHS for 23 years and states, "The goals of the class are aligned to national and state standards based on Communication, Culture, Connections, Comparisons and Communities."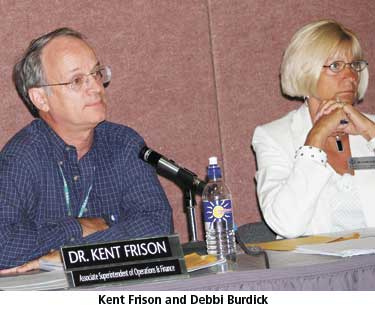 Meanwhile, Superintendent Debbi Burdick issued a press release following the court's ruling against the Cave Creek Unified School District in a lawsuit brought by the Goldwater Institute on behalf of district taxpayers, finding Section 34 (2010 Arizona Session Laws 332) introduced by Sen. Nancy Barto, R-Dist. 7, while a member of the House of Representatives, to be an unconstitutional special law in violation of the Arizona Constitution that also violated the Contracts Clause of the U.S. Constitution.

Burdick said Barto's law would have allowed the district to use the 2000 bond funds for planned building renovations and stated, "As a result of this decision, the district will not be allowed to use bond funds for anything other than what was proposed in the original bond election publicity pamphlet."

Noting the governing board voted to use those bond dollars for capital purposes other than those stated in the pamphlet, Burdick wrote, "The district planned to use the bond dollars made available by the law for needed renovations to our existing schools, including roof and fire alarm replacements. The district is very disappointed in the ruling since these much needed school renovations will continue to be put on hold."

She stated the governing board would need to reconvene to review Maricopa County Superior Court Judge Eileen Willett's Sept. 12 decision and consider its next steps.

While the district has 30 days to file a notice of appeal, the issue was not placed on the Sept. 27 governing board meeting agenda.

Although Associate Superintendent of Finance Kent Frison indicated the risk retention pool covered the costs of defending the lawsuit, it doesn't appear the cost to appeal would be covered.

Several district taxpayers, after reading Burdick's press release about the outcome of the lawsuit, said the district should have thought about prioritizing its expenses and performed the "needed renovations … including roof and fire alarm replacements," before it decided to add 44 parking spaces to the high school parking lot or purchase expensive electronic marquees.

We noted the ® after CCUSD in Burdick's press release, indicating "CCUSD" is a registered trademark.

After looking it up on the U.S. Patent and Trademark Office's website, we found the district not only registered CCUSD as a trademark, it also registered its Cave Creek Unified School District logo.

Sonoran News asked what the cost of registering these trademarks was, including all filing fees and legal fees for Attorney John Hay, and under what account those expenses were budgeted.

We also asked why the district registered the trademarks, as we've not been able to find another instance of a school district registering its initials as a trademark.

Burdick responded, "We pay one yearly price for prepaid legal and this was covered under that," and said, "It was done to protect the CCUSD acronym for Cave Creek Unified School District use."

Because it was not a policy issue, she said it did not go to the board.

Obviously there are filing fees in addition to the legal fees associated with registering trademarks that the prepaid legal did not cover. However, Burdick did not respond to that question or where the item was budgeted.

It's also not clear from whom the district is protecting the use of the CCUSD acronym, but it's interesting the district can register CCUSD as a trademark when it has been used far longer by the Culver City (California) Unified School District, which was established in 1949 and whose website is CCUSD.org.

And, parents are still fuming over the district's sale of their personal contact information to the Political Action Committee (PAC) LearnYes.org.

Burdick responded to one parent by stating "District Directory information, which includes parent e-mails, can be released through a public records request. The citation to that law is 20 U.S.C. Section 1232g."

However, according to 20 U.S.C. Section 1232g, "[T]he term 'directory information' relating to a student includes the following: the student's name, address, telephone listing, date and place of birth, major field of study, participation in officially recognized activities and sports, weight and height of members of athletic teams, dates of attendance, degrees and awards received, and the most recent previous educational agency of institution attended by the student."

The law goes on to state the release of Directory information is permissible with respect to educational opportunities or when required by other school officials, testing agencies (SAT/ACT, for example), to protect the health and safety of a student, the military or law enforcement.

As one parent pointed out, there is no provision, whatsoever, for releasing a parents' personal and/or unlisted e-mail addresses and cell phone numbers, nor is there any provision allowing for the sale of such information to PACs for the purpose of disseminating election propaganda.

Oct. 10 is the last day to register for the Nov. 8, 2011 election, with early voting for the 15 percent M&O (maintenance and operations) budget override election beginning on Oct. 13.