BY PETE MOHR | SEPTEMBER 21, 2011
Cactus Shadows' 7th Annual Homecoming Parade ("It's a Superhero Homecoming!") Saturday morning, Sept. 17, 2011


CSHS Cheer marched as the comic strip character, Captain Underpants.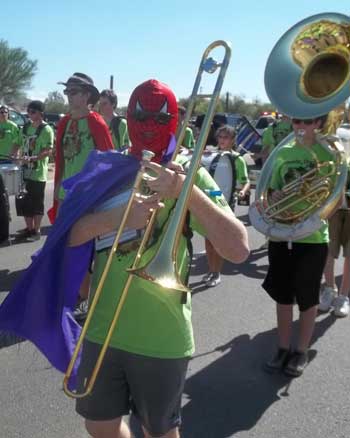 "The Falcon Pride Marching Band" honored singer-songwriter legend Steely Dan. This unidentified trombonist wore a Spiderman mask. Sonoran News says, "Ricky, don't lose that number!"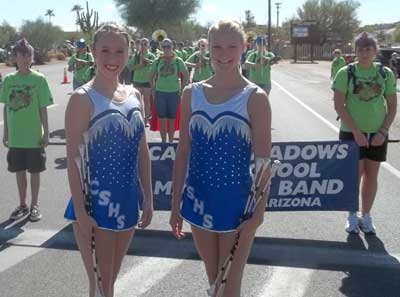 Baton twirlers, juniors Elaina Groby (l.) and Hannah Morgan, can lead this writer's band any day! Congratulations to two beautiful and talented athletes!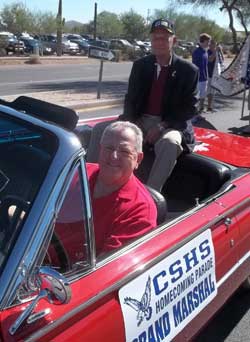 "Recruited" from CSHS History teacher Barbara Hatch's "Veterans Heritage Project," north Scottsdalian Vic Connor, a Viet Nam veteran, was Grand Marshall of last Saturday morning's "It's a Superhero Homecoming" parade. His "Duty Driver," fellow north Scottsdalian John Dalmolin, was at the wheel down the Harold's-to-Spur Cross Road parade route.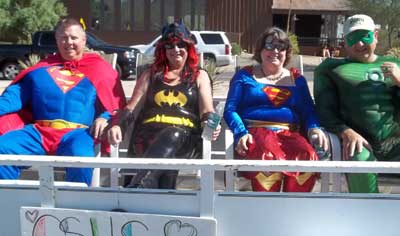 In the theme of Cactus Shadows' 7th Annual Homecoming Parade, the top brass appropriately donned "Superhero" costumes: (l-r) Principal Steve Bebee, as "Superman"; Dean of Students Suzie Cary, as "Batwoman"; Assistant Principal – Curriculum Jackie Beasley, as "Superwoman"; and Assistant Principal & Athletic Director Rick Swearengin, as "The Green Lantern." Good sports, you four!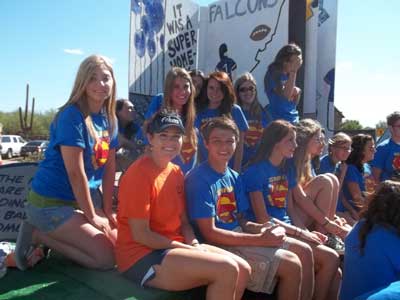 Senior girls rode the Class of 2012's "lead" float. Sonoran News persuaded CSHS Student Council Co-Advisor Cameron Bender (in orange T- shirt) to hop aboard. Her partner, Co-Advisor Allison Zilka, was out of photo range.


All photos by Pete Mohr