Obituaries


LaVerne Blanche Bockelman Stalheim


LaVerne Blanche Bockelman Stalheim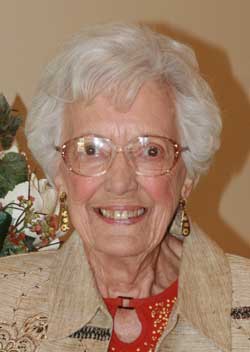 LaVerne Blanche Bockelman Stalheim, 89, succumbed to congestive heart failure on August 25, 2011, at her residence in Tucson, Arizona. Her abundant life as described in her autobiography was lived "On the Move."

LaVerne was born on March 9, 1922, in Paullina, Iowa, the daughter of the late Walter and Hilda Bockelman. She became a big sister ten years later when James Louis was born.
LaVerne began her business career at age 18, earning $17/week at Montgomery Wards. She moved to Toledo, Ohio, in 1941, as a secretary for a Vice President of the Toledo Trust Co.

LaVerne enjoyed dancing to the Big Bands of the era and met a tall blue-eyed blonde at the Arkota Ballroom in Sioux Falls, South Dakota. The encounter was the beginning of their courtship, and on October 1, 1949, she married Lawrence "Larry" Lamont Stalheim in the East Side Lutheran Church.

They worked together raising a family and operating a successful business in De Smet, South Dakota. LaVerne was active in the community and was invited to join the Order of the Eastern Star. She was also initiated into the PEO where she served two terms as president. LaVerne joined the Lady's League, too, and learned to play golf, a sport she enjoyed immensely.

They retired and moved to Carefree, Arizona, where LaVerne volunteered at the Desert Foothills Library, played the bass drum in the Foothills Band, and helped establish Christ the Lord Lutheran Church. She attained the golfer's ultimate goal, and scored a hole-in-one at the Boulders Golf Course on February 25, 1988.

LaVerne enjoyed traveling and her many adventures spanned the globe. Her favorite sojourn though, was the time spent in Jerusalem and the Holy Land, because there is where "God seems so real."

Most of all, LaVerne loved spending time with her family and relatives and numerous life-long friends. Her sympathetic hugs, easy laughter, and caring nature will be remembered and missed by many.

LaVerne is predeceased by her parents Walter and Hilda, her brothers Robert Lee and James Louis, her daughter Nancy Jo, and her dance partner, travel companion and husband of 57 years, Larry.

LaVerne is survived by several relatives and in-laws; her children Cynthia Stalheim and Charles Hallett, Connie Lynn and Craig Pleinis, Mark Larry, and Mary Lisa and Walter Coelet; and her grandchildren, Ross Andre, Collin Patrick, and Jeff Aaron.

Memorial services: September 17, 2011, 11 a.m., Christ the Lord Lutheran Church, 9205 E. Cave Creek Road, Carefree.

The family extends sincere thanks to the considerate and kind residents and staff at La Rosa, and Evercare Hospice & Palliative Care.

In lieu of flowers, the family requests donations in the memory of La Verne be made to the PEO International Peace Scholarship, c/o PEO, 3700 Grand Avenue, Des Moines, IA 50312
Jane C. Brandt
Former resident of Cave Creek, Ariz. and Stewartsville, NJ
Jane Curtis Brandt, 71, of Stewartsville, NJ, and formerly of Westfield, died Monday, September 5, 2011 in Morristown Memorial Hospital, after a brief, but valiant struggle with cancer.

Relatives and friends are invited to the Visitation from 4 – 8 p.m. Thursday, September 8, at Gray Funeral Home, 318 E. Broad St., Westfield, NJ. (Visit www.grayfuneralhomes.com to offer condolences). The Service of Remembrance will begin at 11 a.m., Friday September 9, 2011 in the First United Methodist Church, 1 E. Broad Street, Westfield. Private interment will follow later in Fairview Cemetery.

Born in Plainfied, NJ, and raised in North Plainfield, Jane married and raised six children in Westfield. She later operated a secretarial business in Manahawkin, NJ, and Cave Creek, AZ. Jane was an accomplished author who wrote newspaper columns, and published a recipe book. Jane was also a legal secretary and served as a liason for political candidates. She volunteered for many years at the Westfield Rescue Squad and the Westfield Service League.

Active in theatre, Jane held many leading roles, and won awards for her performances. A realtor, she also enjoyed selling homes in Arizona, and New Jersey. She had many varied interests, and friends, and felt great comfort from her beloved pets.

Surviving Jane are her six children: Susan B. McCrea of Westfield, Ellen Scott Brandt and her husband James Peralta of Bernardsville, NJ, Charles J. Brandt of Garwood, NJ, Jane E. Garretson and husband Mark of Westfield, Carolyn C. Bickford and her husband Edward (Ted) of Needham, MA, and Theodore A. Brandt and his wife Jessica of Tempe, AZ, 15 grandchildren, and brother: William Curtis of Scottsdale, AZ. Memorial contributions may be made to the American Cancer Society.