BY LINDA BENTLEY | SEPTEMBER 14, 2011
The audacity of CCUSD override and more
National Board Certified Teacher in WLOE (World Language Other than English) apparently means just that
CCUSD – Over the past two weeks, Sonoran News has been bombarded by e-mails and phone calls from Cave Creek Unified School District parents and taxpayers challenging everything from the override election to school policies, such as how students are assigned a foreign language class, to the district's sale of their personal contact information to the LearnYes Political Action Committee (PAC), to grammatically incorrect correspondence emanating from school district department heads.

Most parents fear retribution against their students for speaking out against the district and, for that reason, have asked to have their identities protected in providing the information.
Let's start with the 15 percent M&O (maintenance and operations) budget override election, since early voting for the Nov. 8 will begin one month from now on Oct. 13.

One district resident asked, "Why should district taxpayers trust CCUSD regarding the proposed 15 percent M&O override?"

He said, "First, the existing M&O override, approved by 600 votes in May 2007, will continue to fund CCUSD operations until the 2013-2014 school year.

"Second, CCUSD appears to suffer from severe number inflation in their teacher retention figures," noting, in May 2007, a senior administrator stated publicly in a Scottsdale newspaper if the 10 percent M&O override wasn't approved, the district would have to terminate 20 teachers (10 elementary, five middle school and five high school).

He stated, "In early 2011, the same senior CCUSD administrator proclaimed about 73 teachers would be terminated if district voters rejected the 15 percent M&O override this coming November."

He then wondered if what constitutes a 265 percent increase in potential teacher terminations is simply being used to frighten district voters into approving yet another, even larger, budget override.

However, he pointed out, even after voters narrowly approved the May 2007 override, CCUSD retained teachers for only one year (2007-2008). Thereafter, it lost or terminated 29 teachers the following year and nine more in 2009-2010 for a total of 38.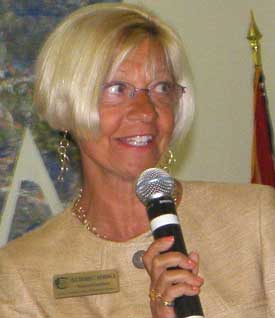 "Third," he wrote, "the overall decrease in the number of teachers had, of course, a significant effect on CCUSD's student/teacher ratios," stating the ratio increased from an average of 17.6 students per teacher to 20.7 students for the 2010-2011 school year.
We then received a copy of an e-mail from a parent of four district students, addressed to Superintendent Debbi Burdick (l), Associate Superintendent Kent Frison and the governing board, expressing "strenuous objection to the override," while outlining "what I plan to do to fight it and why others should be opposed to it."

The parent stated, "This 'override' is actually just a smooth word for increase … You want a $4.4 million increase just in the first year rather than working within your budget and attempting to decrease it like most families and businesses have had to do through these tough economic times … you're asking CCUSD families to increase their expenses more so you don't have to [decrease your budget]," while asking the district for "some shared sacrifice."

In light of the district's declining AIMS scores, the parent asked if, with a budget increase, the district could guarantee improvement in achievement by 15 percent, 5 percent, or even just a commitment test scores wouldn't decline any further.

Expressing concern over the "failing and corrupt school system" and the district's agenda to keep their "salaries high and benefits endless at our expense," the parent, who signed the missive, "An Anonymous CCUSD Parent and Community Organizer," concluded, the override was throwing "good money after bad only to have zero effect on bettering education."

Then there was the letter sent to parents, signed by Jocelyn D. Raught, CCUSD World Language Dept. Lead, National Board Certified Teacher in WLOE.

We had to look up WLOE, and found it's an acronym for "World Language Other than English," which might explain the poor grammar in Raught's letter to parents that opened with, "I am please to have your student in my Spanish class. It is going to be a very exciting year – one in which you student will learn much and use the language in the classroom."

The letter is also fraught with grammatically poor run-on sentences.

Then we heard from a middle school student's mother who wanted her son to learn Spanish, only to be told Spanish classes were full and he would be required to take Mandarin Chinese instead.

The Chinese language program, made available by a Confucius in the Classroom grant, is expected to be available in seventh grade and then eighth grade, meaning, unless additional funding becomes available through some other means later on, the student with two semesters of Chinese under his belt would then need to transfer to Spanish, French or Japanese when he got to high school and be two years behind students who got a jump start in middle school.

But, that was beside the point. This parent didn't appreciate the district dictating which language her son must learn.

When the parent suggested to Burdick that the district allow in-district students (children of taxpaying district residents) to enroll in Spanish and place the open-enrollment students from other districts in Chinese, she said Burdick told her that was not possible and her son could be placed on a waiting list where enrollment in Spanish is done by lottery.

As a compromise, the woman said Burdick indicated her son could instead be a teacher's aide during that period if he didn't wish to learn Chinese.

Then we have heard from numerous parents who have received robo-calls and e-mails from LearnYes, promoting passage of the override.

One parent wrote, "I never gave these folks my e-mail. I think the high school or district gives this personal information out without permission."

That has been an issue since LearnYes was formed several years ago by Attorney Stephen Hart, whose wife Lori Hart teaches in the district.

Parents are incensed that their personal e-mail addresses and unlisted cell phone numbers, which they provided to the district in the event of an emergency, are simply provided to a PAC without their consent.

According to the Arizona Department of Education, there is no statute protecting that information from being handed over to anyone who files a public records request and forks over $20 or so.

LearnYes' latest e-mail is encouraging volunteers to "Walk for Schools, Taking Steps to Save Teachers," on Saturday, Oct. 8.

At the bottom of the LearnYes e-mail there's a note to "our Jewish friends and neighbors" acknowledging Oct. 8 is Yom Kippur and they will not be able to join them in their walk.

It then states, "Out of respect for your important day, LearnYes will avoid knocking on any door bearing a Mezuzah … Thank you for your support and understanding, we wish you a happy and healthy new year."

Not too much respect going on here. Yom Kippur, which falls on Oct. 8 this year, is the Day of Atonement, one of the Jewish religion's highest holy days and its most somber.

The Jewish New Year, on the other hand, is Rosh Hashana, which falls on Sept, 29.