SEPTEMBER 14, 2011
Sheriff Arpaio swears in MCSO's newest Special Deputy
Councilman Jim Van Allen chosen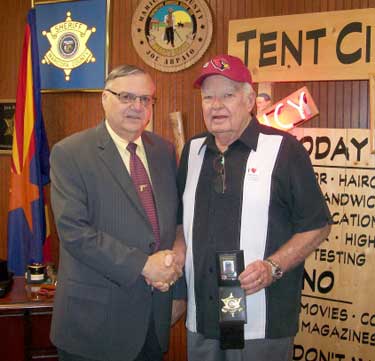 Last week Sheriff Joe Arpaio swore in Town of Carefree Councilman Jim Van Allen, as his newest "Special Deputy". The Sheriff chooses candidates for this honorary status due to their contributions to the Sheriff's Office and/or to their Communities. In Van Allen's case the Sheriff recognized the 7 1/2 years an over 23,700 logged hours that he had devoted as a member of one of his "secret weapon" Posse's--the local Desert Foothills Sheriff Posse.

Don't look for Van Allen to be riding around Carefree in the Sheriff's big Tank though. That honor is saved for Steven Seagal, also a Special Deputy.

The Sheriff considers his 52 separate Posse Organizations one of the back bones of the Maricopa County Law Enforcement challenges. Van Allen worked with most every arm of the Sheriff's team in every corner of the County. He is now devoting full time toward continuing to add value by giving back to his hometown of Carefree as one of the new Freshmen Town Council members. He might be looking, in the near future, to new assignments within the Sheriff's Posse Organization.