BY LINDA BENTLEY | SEPTEMBER 7, 2011
Fundraiser to support Sen. Russell Pearce in recall effort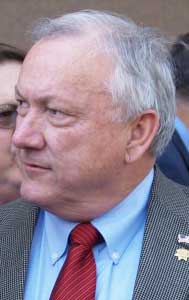 CAVE CREEK – Sonoran News has joined with the Buffalo Chip Saloon and Steakhouse, 6811 E. Cave Creek Rd., Cave Creek, in hosting a fundraiser for Sen. Russell Pearce, R-Dist. 18, from 5 p.m. to 9 p.m. on Sept. 17.

Tickets are $25 and includes a barbeque dinner.

Maricopa County Sheriff Joe Arpaio has confirmed he will be at the fundraiser to support Pearce, who was shot and critically wounded by gang members during his 23-year career with MCSO.

The senate president is now facing a different kind of fight, a recall election, with early voting starting Oct. 18 for the Nov. 8 election, led by what Kevin Myers of the Maricopa County Republican Committee calls "the open borders/illegal alien invaders apologists."

Pearce has stood up against illegal immigration and for the rule of law in Arizona, as the architect of Proposition 200, also known as the Citizens and Taxpayers Protection Act, supported by voters in 2004, to eliminate welfare and other non-federally mandated public benefits for illegal aliens, require proof of citizenship in order to register to vote and photo ID when voting.

He's introduced a number of other ballot initiatives since that time, many of which passed by upwards of 72 percent of the vote, including legislation to deny bail for illegal aliens charged with serious crimes; making English the official language of Arizona; denial of punitive damages to illegal aliens who sue American citizens; Arizona's Fair and Legal Employment Act, a tough worksite enforcement bill to stop illegal employment and preserve jobs for citizens and legal residents of Arizona.

Most recently, he's known for authoring SB 1070, which eliminates sanctuary city policies, creates a trespass provision for anyone who enters or remains in Arizona in violation of federal law, and makes it a misdemeanor for an illegal alien to solicit work and a crime for anyone to pick up a day laborer they know is an illegal alien, with a mandate the vehicle be impounded.

Throughout the years, Pearce has authored legislation to protect taxpayers, private property rights, the unborn, marriage and the Second Amendment.

Several of his bills, introduced as ballot referendums, received over 70 percent of the vote.

Pearce is being recalled, not because voters disagree with his representation, but because they overwhelmingly agree with making Arizona an unfriendly place for those illegally present in this country to obtain jobs, welfare and other benefits, and, pending a decision by the U.S. Supreme Court, vote.

Pearce also sponsored a constitutional amendment to eliminate affirmative action by government in an attempt to do away with government-endorsed discrimination.

Pearce is fighting a well-funded opposition and will need all the financial assistance he can get to win this challenge.

This will be an opportunity for supporters to meet Pearce, who has unabashedly and unapologetically been on the frontlines fighting to protect the rule of law, Arizona and its citizens.