BY LINDA BENTLEY | AUGUST 31, 2011
Birther Summit ups the ante for Honolulu newspaper
'We certainly hope they aren't so frightened of the evidence that they would keep their favorite charity from receiving this money'
WASHINGTON – The Birther Summit has doubled its offer to $10,000 for an original copy of either the Aug. 13, 1961 Honolulu Adviser or the Aug. 14, 1961 edition of the Honolulu Star-Bulletin, in which the birth announcements of President Barack Obama were purportedly published.

The only evidence anyone has seen that these announcements even exist have been copies of microfiche versions of the newspapers, which contain suspicious anomalies.

Birther Summit Executive Director Dean Haskins stated, "As with the vault version of Obama's birth certificate, which has still not been forensically verified to be a valid document, or even exist, we would like an opportunity to inspect one of these actual newspapers rather than purported representations of them.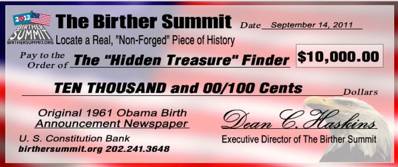 While Haskins realizes the existence of an original copy of either newspaper may be fairly unlikely, because Aug. 13, 1961 was the day first reports of the construction of the Berlin Wall appeared in newspapers around the globe, he is hopeful someone in Honolulu may have saved and stored a copy possibly for that reason.

Meanwhile, neither Colin Powell nor the four TV commentators (Bill O'Reilly, George Stephanopoulos, Anderson Cooper and Chris Matthews) have responded to the Birther Summit's $15,000 challenge to listen to experts present evidence of fraud regarding the Certificate of Live Birth produced by the White House on April. 27, Obama's fraudulent use of a Connecticut-issued Social Security number and what appears to be a fraudulently created Selective Service registration.

Haskins encourages readers to engage in an e-mail campaign to urge them to take the Birther Summit up on its offer that will provide the first to come forward with a $15,000 check for their favorite charity for just three hours of their time.

He said, "We certainly hope they aren't so frightened of the evidence that they would keep their favorite charity from receiving this money – although, so far, they've done a pretty good job of evading the truth!"

Haskins also said he will be in Honolulu during the week of Sept. 14, to attend Dr. Orly Taitz, Esq.'s hearing in U.S. District Court on her motion to compel against Hawaii Department of Health Director Loretta Fuddy for her refusal to produce Obama's original vault birth certificate for examination by experts, citing privacy issues.

Taitz said once the White House produced what it claimed was a copy of Obama's original long-form birth certificate; all rights to privacy were waived.

Encouraging anyone who can attend the hearing on Sept. 14 in support of Taitz to do so, Haskins said, since he'll be in Honolulu, the Birther Summit is advocating anyone interested in claiming the $10,000 reward for an original copy of one of the two newspapers to spend some time searching to locate one, as the purchase could be simplified by the transaction taking place while Haskins is on the island.

Haskins also wanted to assure those who have contributed to the Birther Summit through its website and post office box, those funds will be used only for administrative and operational expenses incurred for the Birther Summit itself and funding for these special offers and challenges, along with travel expenses to be in Honolulu to support Taitz do not, and will not, come from those donations.

Those initiatives and offers have been privately funded and earmarked for those specific purposes.

Haskins concluded with, "Now is the time to start your treasure hunt."
Visit www.BirtherSummit.org for more information and to donate.