Obituaries

Tony Zupan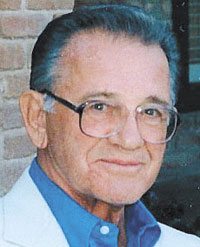 RED LODGE - Tony Zupan of Red Lodge, Montana and Carefree, Arizona died peacefully of complications from diabetes on August 18 in Bozeman. Shirley, his wife of 62 years, was at his side. He would have been 90 years old on August 28.

Tony grew up as one of the 8 children of Nicola and Mary Zupan, Croatian immigrants. Tony loved sports and appreciated athletic ability. He was an enthusiastic participant and coached many a blossoming golfer. Becoming a caddie at the local (pasture) golf course while still in high school and his subsequent quest for mastery of the game became the backdrop for his life.

He served in the Army in WW2 as the T-Sergeant in charge of the message center of the 316th Combat Engineers headquarters of the 91st Infantry Division.

In 1939, just out of high school, he went south looking for good golf and a job. After the war, in the winters, he worked as an assistant golf pro at The Wigwam in Litchfield Park, Arizona and, in summers, at the Canyon Hotel in Yellowstone Park.

Tony married Shirley Sagness at The Wigwam in 1949. They moved back to Red Lodge, Montana where he worked in the Clerk of Courts office, operated the Ben Franklin store, banking at the U.S. Bank, then returned to county employment as the County Clerk and Recorder. Tony also worked weekends at Red Lodge Mountain as a lift operator for many years.

He and Shirley were Carefree snowbirds. He often said he was lucky enough to live in the two best small towns in the world….Red Lodge and Carefree!

Toe-knee-chest-nut … your spirit and energy will be greatly missed.

Tony is survived by his wife, Shirley; daughter, Cindy (Lippon); sons, Paul, Tim, Nick and Dewey and their spouses, along with nine grandchildren. He was preceded in death by his parents and all siblings.

Cremation has taken place. Memorial services will be held at St. Agnes Catholic Church in Red Lodge at 1 p.m. on Sunday, August 28. Interment with military honors will be in the Red Lodge Cemetery.

Memorials in lieu of flowers may be given to the Red Lodge High School golf team, c/o P.O. Box 1090, Red Lodge MT 59068.

Smith-Olcott Funeral Chapel is in charge of arrangements.