BY LINDA BENTLEY | AUGUST 10, 2011
Carefree to raise speed limit to 30 MPH
'The purpose of having a speed limit is to have consistency'

Mayor David Schwan announced the cancelation of the Aug. 16 workshop, citing there was no council business to conduct and said the September council meeting will be held on Sept. 13, so as not to conflict with the Labor Day weekend.
Photo by Linda Bentley.
Town Administrator Gary Neiss provided a brief introduction to the second reading of an ordinance to increase the speed limit in the town core, which he said was recommended one year ago by the town's consultant Traffic Engineer Paul Basha.
Basha told council speed limits are determined by state law based on engineering studies, which he said was accomplished last year.
"The purpose of speed limits," said Basha, "is to have consistency in speed."
The 25 MPH speed limit has brought Carefree anything but consistency in speed with 75 percent of the traffic on Cave Creek Road exceeding the speed limit.
On Tom Darlington Drive, south of Cave Creek Road, Basha reported 80 percent exceeded the 25 MPH speed limit with 50 percent exceeding 30 MPH.
According to his study, 90 percent of northbound traffic on Tom Darlington exceeded 25 MPH while 95 percent of southbound traffic exceeded 25 MPH, 80 percent exceeded 30 MPH and 50 percent exceeded 35 MPH.
Basha stated, "Our recommendation a year ago was to increase the speed limit to 30. Southbound, south of Carefree Drive should be 35 MPH because over 50 percent of traffic is traveling over 30 MPH."
Reiterating what he told council when he appeared before them a few months ago, Basha said, "If we see a speed limit sign that's unreasonable, we tend to ignore it. If it's reasonable, we're more likely to comply."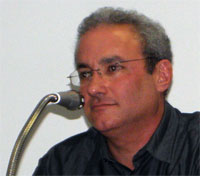 Councilman Marty Saltzman stated council was discussing a change to one lane and a bike lane and asked if the speed limit recommendation would still apply.
Basha stated the traffic volume could be carried with one lane and the current traffic is one quarter of its carrying capacity.
However, speed limit recommendations, based on a different configuration, would require a new traffic study.
Vice Mayor Melissa Price stated, "You said uniform speeds was a priority," and asked, "Where does safety of citizens come in?"
Basha responded, "Uniformity is for safety. My opinion is, if the speed limit is raised to 30 MPH, more people will drive between 25 and 30 MPH."
Councilman Jim Van Allen questioned if an increase in signage, including signs on the left side of the road would help with compliance.
Basha said placing signs on the left side of the road is not recommended because people are not accustomed to looking on the other side of the road.
He said the town could add signs, but recommended they be placed on the same side of the road.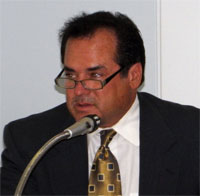 Councilman Michael Farrar said it was interesting that raising the speed limit increases safety and asked if there would be a follow-up study to determine its effectiveness and how much that study would cost.

Basha said another study could be done in six months and he would donate his time. The only cost would be for the equipment, which he said costs around $300 per location and suggested placement in the same three locations.

During public comment, Ray Arnold said he was in favor of increasing the speed limit to 30 MPH and stated he gets cut off a lot at the roundabouts on Tom Darlington.

He said, "Thirty MPH is not an unreasonable speed. I can stop on a dime from 30," and noted 30 MPH was also consistent with Cave Creek.

Saltzman said he agreed with 30 MPH the way the road is currently configured but suggested tabling it until the town decided what it was going to do about changing the configuration as discussed during its visioning workshop.

Schwan stated changing the configuration would require public input and a new traffic study, adding, "There's no money in the budget."

He said this was a $300 experiment that can easily be reversed by replacing the old speed limit signs if the town sees the need.

Councilman Arthur Gimson stated, "I don't share the concern that we need to have the same speed limit as Cave Creek. I would like to see the speed limit remain where it is."

Farrar said changing the speed limit might be premature in light of Saltzman's comments about going to one lane.

Schwan stated, "That could be a year or more away."

Farrar responded by saying he had no problem spending $300 for signs if it will enhance pedestrian traffic.

Price said she was somewhat biased because she lives on the west side of Tom Darlington. After polling her neighbors, she said they were split about 50/50 for and against increasing the speed limit.

She said, "I think safety of citizens is a priority. I'm not in favor of raising it."

Saltzman stated, "If the professional says it's the safer thing to do – I realize it's counterintuitive – but if that's what the experts say, we should do what they are saying is the safer thing to do."

Van Allen said he spoke to six deputies and all of them favored increasing the speed limit.
Schwan acknowledged it seemed counterintuitive and said if consistent speed was the answer the cost of failure is only $300, as he recommended a motion to approve.

Council approved increasing the speed limit by a vote of 5-2 with Gimson and Price dissenting.

The new speed limits will go into effect in 30 days and should be posted Sept. 1.