BY LINDA BENTLEY | JULY 28, 2011
Nonchalant practices may have contributed to Carefree home invasion
The robbers, without waking the homeowners, removed valuables, along with the keys to the Expedition, which was also stolen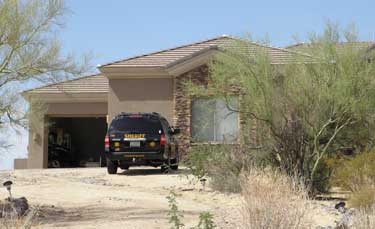 This home in the east 7600 block of Nonchalant Avenue in Carefree was the target of a home invasion robbery on July 28 during the early morning hours.
Photo by Linda Bentley


CAREFREE – Because the homeowners were home at the time, a robbery early Thursday morning at a home in the east 7600 block of Nonchalant Avenue in Carefree is technically considered a home invasion even though there was no confrontation with the homeowners, who were asleep at the time.

In fact, the homeowners were unaware they had been robbed until around 8:30 a.m. on Thursday when they called MCSO.

According to Maricopa County Sheriff's Office, the victims went to bed around midnight on July 27 and, although they have an alarm system installed it was not set.

Their greenish blue Ford Expedition was parked in the driveway in front of their garage with the garage remote control inside.

The suspect(s) broke a window on the driver's side of the vehicle, took the remote and opened the garage door to gain access to the home. Apparently, the door leading into home from the garage was also left unlocked.

The robbers, without waking the homeowners, removed valuables, along with the keys to the Expedition, which was also stolen.

MCSO District Commander Lt. Rich Burden said there are a number of things people can do to protect themselves from becoming victims, some of which are obvious, such as not leaving garage door openers in vehicles while parked in front of their garage.

Locking the interior door from the garage to the rest of the home was another suggestion, along with setting the alarm.

Burden said leaving a few lights on outside is another inexpensive deterrent for burglars who generally prefer to work in the dark.

If anyone should happen to see a greenish blue Ford Expedition, license number 616 LWU, with a broken driver's side window, they are asked to contact MCSO at 602-876-1011.