BY LINDA BENTLEY | JULY 27, 2011
Local architect provides new flags to those flying tattered ones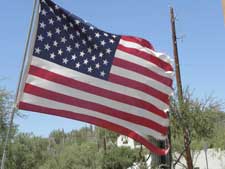 CAREFREE – As he was driving through Carefree and Cave Creek, local architect Kirk Hostert noticed many businesses were flying tattered American flags, including Chase Bank, Good Shepherd of the Hills Episcopal Church and Red Truck Trading Company (photo, left).

Rather than just notify them of the condition of their flags, Hostert decided to present them each with replacements.

In addition to the flags, he provided each with an information sheet on proper flag etiquette and disposal, noting the local American Legion Post 34, located at 6272 E. Cave Creek Rd., Cave Creek, is an excellent resource for disposing of tattered and torn flags.

"Whatever you do, do not just toss it in the trash," wrote Hostert in his letter accompanying the new flags.

Hostert says proper display of the flag is important, as it appropriately honors not only their businesses but our country, those who have bravely fallen and those who continue to stand in her defense.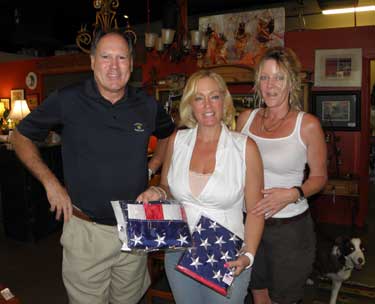 Last Thursday, when Hostert brought two new flags to the Red Truck Trading Company, he was met with great appreciation by owner Kimberly Wade and employee Tammy Caluori.
Hostert also told Sonoran News Chase had already replaced its flag prior to him arriving to provide them with a new one.

As Hostert embarks on his ongoing endeavor of ensuring Old Glory is properly displayed in the community, he also urges those who fly American flags to check them periodically for wear and replace them before they become tattered and torn.

Hostert also said Rural/Metro might want to consider replacing its Arizona flag flying at the Carefree Fire Station, which is showing similar signs of wear.

Photo above: Kimberly Wade (c), owner of Red Truck Trading Company, and employee Tammy Caluori were very grateful to receive two new American flags as a gift from Carefree Architect Kirk Hostert to replace the two raggedy ones previously flying in front of their store.

Photos by Linda Bentley