BY LINDA BENTLEY | JULY 6, 2011
Justin Lunsford sentenced to 23 years for 2008 murder, arson
In her order granting dismissal of the other four charges, Barton wrote, 'The state dismisses allegation of death'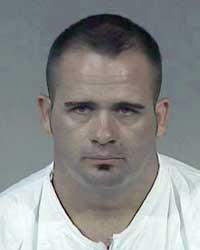 PHOENIX – Justin Wade Lunsford was sentenced on Thursday to 23 years in prison for the 2008 murder of Mary Elizabeth "Liz" Hermann and arson of an occupied structure.

Lunsford pled no contest in February to a reduced count of second degree murder and one count of arson of an occupied structure as part of a plea agreement.

Hermann's body was discovered on July 8, 2008 by Rural/Metro firefighters in an unburned part of the house at 56th Street and Seven Palms Drive in Cave Creek.

The grizzly scene revealed Hermann was stabbed numerous times and her throat slit to near decapitation.

Lunsford was also accused of stabbing Hermann's cat and dog to death and driving Hermann's truck to another location and setting it on fire.

Had Lunsford not entered into a plea agreement, he would have gone to trial on Feb. 14, 2011 on charges of first degree murder, arson of an occupied structure, burglary, arson of property, two counts of animal cruelty, and face the death penalty if convicted.

Lunsford's plea to second degree murder took the death penalty off the table.

Maricopa County Superior Court Judge Janet Barton had already denied Lunsford's third motion to continue and proceeded with sentencing on Thursday morning after considering the sentencing memorandums of the state and defendant, supplements to each and letters submitted by both sides.

Statements were first made by Hermann's friends and family members.

Two Arizona Department of Corrections (ADC) inmates, Braden Daniel Joseph Vlk, currently serving a seven-year sentence for burglary, and Brenton Biggs, serving 10.5 years for manslaughter, were brought in to make statements on behalf of Lunsford.

Lunsford's father, Russell Lunsford presented a slide show to the court of his son as a young child on horseback and his involvement in 4-H Club activities.

Statements were then made on Lunsford's behalf by his cousin, brother, mother and Jill Lunsford, identified by the court as his wife.

At the time of his arrest, Lunsford had only been divorced a few months from Brittany Tarver, who was visiting him regularly in jail and told Sonoran News they had been discussing the possibility of getting back together.

So, it is unclear at what point in time the jailhouse marriage to Jill took place during his near three-years of pretrial incarceration.

Nonetheless, Jill told the court what a wonderful husband Lunsford was and pleaded for a short sentence so they could start a family.

Following a short recess, both the prosecutor and defense made sentencing recommendations to the court and said they had reached an agreement as to restitution.
Lunsford then spoke on his own behalf.

Vivian Hermann, the victim's mother, said the entire hearing appeared slanted in favor of Lunsford, whereas a multitude of letters were read into the record on behalf of the defendant but none were read in court on behalf of the victim. She said, "It was all about him."

According to Hermann, when Lunsford's wife spoke, she referred to the "alleged death" of her daughter Liz and the "alleged situation," as if the murder never occurred.

"My daughter is dead. She was murdered," said Hermann. "That is not just an allegation."

Hermann said the defense lawyer continuously disrespected her daughter by referring to her as Polgar, Liz's married name to a man from whom she was separated, pointing out Liz had her name legally changed back to Hermann in March 2008, several months before the murder.

According to Hermann, while her daughter, a cancer survivor, was going through chemotherapy, her husband had an affair and child with another woman. She said Polgar subsequently left that woman as well and took off with another.

She said Liz would have been quite upset if she knew she was being referred to as "Polgar."

Hermann said Lunsford told Barton he was scared to go to prison and begged for leniency, although Barton seemed unimpressed and told Lunsford he sounded like a child.

However, Barton noted Lunsford had a "clean record," found him guilty on both counts and ordered him to 18 years flat time at ADC, with presentence incarceration credit of 1,081 days on the murder charge.

Flat time means Lunsford must serve the full sentence and is not eligible for early parole.
She then sentenced him to five years on the arson count, to be served consecutively. He will be required to serve at least 85 percent of that sentence.

Hermann expected Lunsford would get closer to the maximum sentence of 34 years, when she was informed about the plea deal in February.

Because all the other charges were dismissed, Hermann said they also never addressed the numerous items Lunsford stole from her daughter.

As far as his "clean record" goes, Lunsford was indicted in 2003 on three counts of criminal damage to which he pled to a single reduced count in 2004, was placed on probation for 18 months and was ordered to pay over $4,000 in restitution to the three victims.

He was cited for criminal damage again in 2006, although the charges were dismissed the following year.

Lunsford was also ordered to pay $2,500 in restitution to Vivian Hermann, paid monthly in an amount to be determined by ADC.

Hermann said she doesn't want his money but doesn't want him to have it either and will donate whatever money she receives from him to a nonprofit organization.

In her order granting dismissal of the other four charges, Barton wrote, "The state dismisses allegation of death," a particularly odd ruling in a murder case in which the victim was savagely stabbed to death.

According to Hermann, the detective assigned to the case said the crime scene was one of the most gruesome he'd ever seen.

And, Lunsford, who is only 29, could be released from prison before his 49th birthday.