BY LINDA BENTLEY | jUNE 22, 2011
ASU grads assist Cave Creek with sign ordinance rewrite
The town's goal should be to revise the sign ordinance with 'sensible recommendations'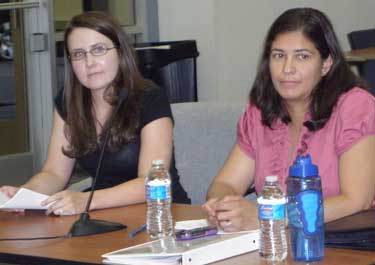 Erin Bodine (l) and Ana Harp, two recent graduates from ASU's planning school, conferred with business owners regarding the town's sign ordinance and learned consensus is difficult to come by in Cave Creek.
Photo by Linda Bentley




CAVE CREEK – When ASU planning school graduates Erin Bodine and Ana Harp agreed to assist Cave Creek's planning department by reaching out to businesses to see what they wanted as far as a sign ordinance goes, they contacted 23 businesses, of which 14 stated they wished to participate.

Of those 14, only nine made themselves available.

In determining what those Cave Creek business owners wanted to see as far as ordinances go, of the nine, two wanted to see stricter ordinances, three wanted medium control, while the remaining three wanted minimal regulations.

Where Bodine and Harp found consensus was business owners wanted simplification of the ordinances, flexibility, lessened restrictions and professional graphics, even when it came to the non-permanent sandwich signs.

The interns provided the planning commission with a number of charts as to what constitutes effective signs.

First off, they said signs need to be legible and presented a chart showing various traffic speeds with the minimum distance required for sign legibility, with another chart explaining visibility by speed, lanes of traffic, size of sign in square feet and by height.

Color choice and letter style were other factors to be considered, as the interns pointed out certain color combinations should be avoided because a lot of men are color blind.

While the current ordinance doesn't allow for backlit signs, they presented examples of low-level backlit signs utilizing newer LED technology on non-reflective surfaces.

They also suggested the use of wayfinding signage so visitors know how close they are to certain attractions.

One of their suggestions included having a town square/gathering place to increase the town's identity along with a place for residents to get together, including a visitor center, which they said could be done at Frontier Town at a larger degree than it is currently being utilized.

The interns also said there should be additional crosswalks in town, such as between the Buffalo Chip and the Circle K, and across Cave Creek Road at Stagecoach Village.

Business owners wanted some sort of traffic calming measures. The students recommended lowering speed limits, installing additional crosswalks and raised crosswalks.

Other recommendations included enhancing pedestrian and bike paths.

Monument signs upon entering the town were deemed important and the students displayed examples of signs from Superior, Sedona and municipalities in other states, along with examples of popular over-the-road gateway type of signs, which the women said notifies visitors when they are in the town, shows town pride, a sense of community and gives the community an identity.

The business participants said they would like to see: monument/gateway signage, a pedestrian path and bike lane, traffic calming features, town square/gathering place, wayfinding signage, illuminated signs and effective sign requirements.

To simplify the ordinance, the interns suggested using a chart that described what types of signs are permitted in which zoning districts, and provided examples from the Fountain Hills and Mesa zoning ordinances.

Mesa also used graphics to explain what constitutes a public right of way where no signs are permitted.

Survey participants wanted the ordinance for permanent signs to be simplified, flexible, less restrictive and require professional graphics.

For non permanent signs, they also wanted them to be professionally made, maintained and have a time limit.

In sum, the majority of the survey participants believed the existing ordinance was too strict and prohibited creativity.

They said the town's goal should be to revise the ordinance with "sensible recommendations."

The interns said the town's signage goals should promote tourism, highlight key attractions, reinforce community identity, enhance the visitor's experience and increase safety for drivers and pedestrians.

Bodine and Harp said they really liked most of the signs in Cave Creek, found them to be as eclectic as the town, and made them want to go inside all the little shops in town.