BY LINDA BENTLEY | jUNE 17, 2011
Man who started Rodeo fire in 2002 released from prison
The Rodeo-Chedeski Fire was the largest fire in Arizona's history until a just few days ago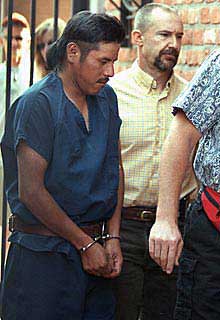 PHOENIX – Leonard Gregg, 38, was released from federal prison today after serving nine years of a 10-year sentence for two counts of arson.

As part of his sentence, Gregg was also ordered to pay $27.9 million in restitution.

In 2002, Gregg, a member of the White Mountain Apache Tribe, worked as a seasonal firefighter on the Ft. Apache Indian Reservation.

In July 2002, Gregg was taken into federal custody after confessing to setting two fires on the morning of June 18, 2002, telling investigators he hoped it would help him land a job with the Bureau of Indian Affairs on the quick-response fire crew.

While the first fire (Pina Fire) Gregg set was quickly extinguished, the second one, set only miles from his home in Cibecue near the rodeo grounds, quickly got out of hand.

Gregg admitted to using wooden matches to set the dry grass on fire and said he expected to work with the fire suppression team for a day. He said he never expected the fire to develop into what it did.

According to Bureau of Indian Affairs Investigator Daniel Hawkins, Gregg was also one of several suspects in over 200 cases of arson in the Cibecue area.

Two days after Gregg set the Rodeo Fire, Vallinda Jo Elliott, who was stranded on the Indian Reservation for three days after her car ran out of gas, set a small fire to signal a news helicopter covering the Rodeo Fire for help.

Although Elliott was rescued as a result, the fire she set near Chedeski Peak, took off and eventually merged with the Rodeo Fire, which wiped out 467 homes and nearly 470,000 acres of national forest and Indian land.

Forestry officials said it would take hundreds of years for the forest to recover from the damages caused by the fire.

Elliott was not charged with arson. However, a federal judge ruled in 2009 that the White Mountain Apache Tribe could sue Elliott in tribal court for civil damages.

The Rodeo-Chedeski Fire was the largest fire in Arizona's history until a just few days ago, when the Wallow Fire, also said to be human caused but still under investigation, had already consumed more than 495,000 acres and is currently only about 33 percent contained.

The 2005 Cave Creek Complex Fire, which was sparked by lightening, has now been bumped from second place to the third largest fire in Arizona history.