BY LINDA BENTLEY | jUNE 8, 2011
U.S. Supreme Court vacates judgment in Hazleton case


WASHINGTON – On Monday the U.S. Supreme Court issued a summary disposition in granting certiorari to the city of Hazleton, Penn. v. Pedro Lozano, et al, vacating judgment and remanding it to the Third Circuit for further consideration in light of Chamber of Commerce of United States of America v. Whiting, in which the high court recently upheld the Legal Arizona Worker Act.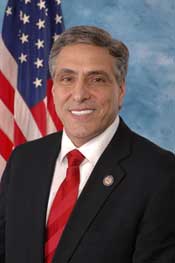 Lou Barletta (r), as mayor of Hazleton, Penn. led local efforts to fight illegal immigration in the small community of approximately 30,000.

The city of Hazleton, Penn. appealed the Third Circuit Court's decision, which upheld the district court's permanent injunction, prohibiting Hazleton's enforcement of two local ordinances attempting to regulate employment of, and provision of rental housing to, illegal aliens.

Several individuals and organizations sued to enjoin enforcement of the ordinances, claiming they violated the U.S. Constitution, as well as federal and state statutes.
The district court agreed and enjoined Hazleton from enforcing the ordinances in their entirety.

While the Third Circuit panel stated its reasoning differed somewhat from the analysis used by the district court, it concluded in its 188-page opinion that the court correctly enjoined the challenged ordinances.

Barletta, now a U.S. Representative, just introduced HR 2057, the Mobilizing Against Sanctuary Cities Act, which would crack down on sanctuary cities in local jurisdictions which refuse to cooperate with federal officials in enforcing immigration law.
If passed, HR 2057 would withhold all federal funding from municipalities with sanctuary policies in place.