BY LINDA BENTLEY | jUNE 8, 2011
L.A. man makes pit stop at Fourth Avenue Jail on way to Grand Canyon

CAREFREE – On June 3, Michael Zamora, 37, allegedly walked into the Dominion Real Estate office located at 7275 Easy St. in Carefree, grabbed a laptop computer and took off running.

Dominion Branch Manager Stephanie McNeely called the Maricopa County Sheriff's Office to report the theft.

McNeely told them which way the suspect took off running and since there were deputies in the area, it wasn't long before they apprehended Zamora in front of the Carefree/Cave Creek Chamber of Commerce Visitor Center.

According to a MCSO spokesperson, Zamora told deputies he lives in Los Angeles and was on his way to the Grand Canyon.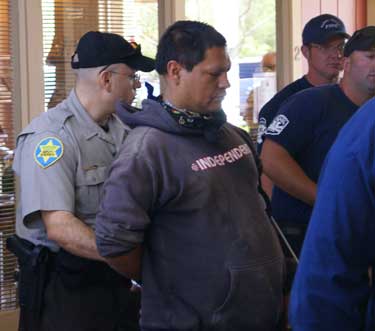 Zamora then told deputies his company makes those laptop computers, which he said are sold at Walmart with the intended use by school children not businesses and he was just taking it back for his family.

MCSO booked Zamora into the Fourth Avenue Jail on one count of theft and returned McNeely's computer.

Kim Prince of Proven Media Services, who caught the apprehension on camera, pointed out the reason for Zamora's odd appearance – his eyebrows were shaved off.