BY LINDA BENTLEY | jUNE 1, 2011
CSHS IB juniors misrepresent services provided by selected charity
CCUSD – On May 31, falcons.cas@gmail.com sent out an e-mail on behalf of the International Baccalaureate (IB) Class of 2012 to the personal e-mail addresses of every Cactus Shadows High School teacher and others announcing in the subject line: "I Think, Therefore I Don't Read the Sonoran News."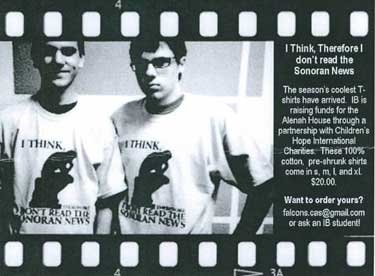 The message stated, "We here in the IB Class of 2012 are raising money to support our charity, The Alenah House. Help us raise funds to provide life-saving operations to infants in China. When we are in Beijing next year, we are going to have the opportunity to tour the facility and see all the good they are doing. You can help them by purchasing one of these awesome Tshirts (sic). E-mail us, come to room 301, or stop an IB Junior anywhere on campus!
"Thanks!
"IB Class of 2012, Fundraising team."

First off, their selected charity, a Children's Hope International (CHI) partner, Partners in Hope, is called Alenah's House of Hope or sometimes referred to as Alenah's Home and there is no "the" preceding its name.

For the record, there is also no "the" before Sonoran News. It is simply Sonoran News.
CHI, in seeking donations for Alenah's Home-Beijing Foster Care, states, "Your gift will help give Chinese orphans a loving, caring home while they recover from surgery."

Reiterating Alenah's House is a "post-surgical foster care home for orphans in Beijing," CHI's website specifically states orphans and poor children who need care after surgery "are brought to the home in Beijing for the best possible care."

So, contrary to the IB Class of 2012's e-mail, Alenah's House does not provide "life-saving operations to infants in China."

According to Executive Director Dwyatt Gantt, CHI, a 501(c)(3) tax- exempt charity, is a "faith-based organization … with the ultimate purpose of bringing spiritual life and accompanying hope, faith, strength and direction to all who are served."

CHI's website goes on to state, "Our faith in God and our responsibility to express His love for the hungry and hurting inspire us to reach out to those less fortunate. So many children suffer in our world due to circumstances far beyond their control. At Children's Hope Partners, we bear this responsibility with honor and respect."

Based in St. Louis, Mo., CHI also provides international adoption services for children in China, Columbia, Kazakhstan, Ethiopia and Russia, claiming it found new homes for 338 children in 2009.

In 2009, CHI received nearly $3.9 million in adoption and placement fees, averaging approximately $11,500 per child.

Over the past five years, CHI has received over $42 million in gross receipts for its services.

According to CHI's adoption program, adoption fees can run from a low of $10,710 for a Columbian child to as much as $45,610 for a child from Kazakhstan, depending on the country and age of the child.

Travel expenses for two can range anywhere from $6,000 to more than $21,000, depending on the country, number of trips and length of stay.

Then there are additional application fees and costs associated with U.S. Customs and Immigration Services and various state agencies.

While there doesn't appear to be anything wrong with CHI, despite seeing a few complaints about its Russian and Kazakhstan adoption programs, we can only wonder why the IB class of 2012 would choose to fundraise for a charity that handles foreign adoptions when there are tens of thousands of children in the United States that need homes, many right here in Arizona.

The International Baccalaureate Organization (IBO) was founded in Geneva, Switzerland in 1968 by European diplomats for the purpose of providing a common undergraduate program for their children.

However, in 1996, IBO formed a partnership with UNESCO (United Nations Education, Science and Cultural Organization) to form an international education system.

UNESCO initially attempted to impose its international curriculum to prepare students for world government in 1949 using a 10-part series for teachers titled: "Toward World Understanding," which stated "one of the chief aims of education today should be to prepare boys and girls to take an active part in the creation of a world society."

It also stated, "As long as the child breathes the poisoned air of nationalism, education in world-mindedness can produce only precarious results. As we have pointed out, it is frequently the family that infects the child with extreme nationalism. The school should therefore use the means described earlier to combat family attitudes that favor jingoism."

President Ronald Reagan abandoned the United States' relationship with UNESCO in 1984, citing the U.S. had no business being affiliated with such an utterly corrupt organization.

Although President George W. Bush told the United Nations it would rejoin UNESCO in 2002, telling Congress the organization had reformed, Rep. Ron Paul, R-Texas, introduced a resolution that indicated Congress should not rejoin UNESCO.

Paul stated, "It is strange that in the 18 years since the United States left UNESCO, we only started reading about the beginnings of reform in the year 2000. Are we to believe that after nearly two decades of no change in UNESCO's way of mismanaging itself things have changed so much in just two years? Is it worth spending $60 million per year on an organization with such a terrible history of waste, corruption and anti-Americanism?"

However, even if UNESCO was reforming its financial accountability during that period of time, Paul said "its programmatic activities are still enough to cause great concern among those of us who value American sovereignty and honor our Constitution."

UNESCO sought to license and control all journalists, broadcasters and media personnel worldwide without any regard to the U.S. Constitution.

In 2003, UNESCO, while under the leadership of former Soviet Dictator Mikhail Gorbachev, was still marching to a Marxist one-world order tune.

And, as we eliminate the ability of children to pray in government schools, schools have encouraged adoption of UNESCO's Earth Charter as its new global spirituality of worshiping the Earth itself.

While the IB Class of 2012 students who claim to think apparently don't feel a need to read or learn what their "Thinker" T-shirt sales would be funding, they at least picked a faith-based organization that believes in God.

Our Constitution actually allows that, even in government schools.