BY LINDA BENTLEY | MAY 25, 2011
Hidden Valley residents to get new water lines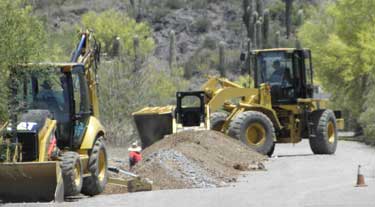 CAVE CREEK – Utility workers were busy digging on Blue Ridge Drive east of Hidden Valley Drive on Monday, where they are continuing the town's water line improvement project in the area.

Homeowners in the Hidden Valley 2 Subdivision along the foothills of Black Mountain will have new water lines in a couple of weeks, which will bring them uninterrupted service with clear water and adequate pressure.

As an incentive, residents are being offered a $200 rebate on their water bill if they hook up to the new line by the end of June.

However, they will have to hook up to the new lines by end of July when the town will be cutting off service to the old lines permanently.

According to Utilities Manager Jessica Marlow, some residents may not need to do anything other than possibly install a pressure regulator if the new lines can be practically hooked up to the existing meter.

Otherwise, they will need to obtain a $27 permit and submit an aerial map of their parcel, with which Marlow said the town could assist, showing where the new meter will be installed.