BY PETE MOHR | MAY 25, 2011
Falcon seniors fly "The Roost" as CSHS Class of 2011 graduates 420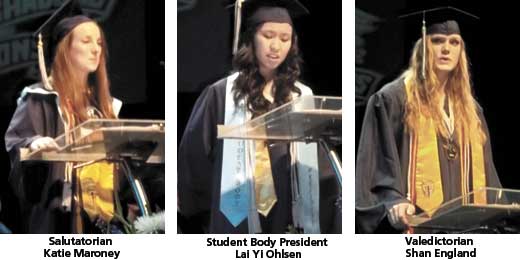 PHOENIX – Amid whoops and hollers, shout-outs and every other congratulatory exclamation imaginable from parents, family members and friends, 420 Cactus Shadows High School (CSHS) seniors graduated Thursday evening, May 19, in commencement exercises at Phoenix First Assembly. There will be, for sure, stormy weather in the adult lives of these high school graduates; but this writer chooses to believe the weather-perfect evening (balmy temperatures, a near-full moon) was a good omen for their future.

It was a privilege to hear Music Director Gary Wykoff's Honors Choir sing our National Anthem with the patriotic bravado and commanding tempo Francis Scott Key intended; and the Choir's moving performance later in the evening of "You Lift Me Up" testified powerfully that "political correctness" has not erased God from CSHS graduation.

First Principal Steve Bebee, then Cave Creek Unified School District Superintendent Dr. Debbi Burdick, congratulated the Class of 2011, encouraging the graduates to live by their adopted motto: Oscar Wilde's "Be yourself! Everyone else is taken." Judging by their spirit and enthusiasm, 2011 appears more than ready to do so.

Salutatorian Katie Maroney opined to her classmates, "Tonight, we celebrate our coming of age. Search for yourselves in where you may go, but don't forget where you've been." Lai Yi Ohlsen, Student Body President, praised her Class for "putting our hearts and souls into our last year," concluding exuberantly, "Hey, world, we did it!"

Next, Samantha Mazella announced the Class Gift, Falcon banners to adorn every lighting pole on campus. Mazella emphasized, "These banners will say, 'We're the mighty Falcons, united in every way!'"

Salutatorian Shan England spoke somewhat more philosophically, evaluating the high school experience as "the opportunity to define ourselves." She continued, "Now we leave the safety of high school to discover who we're going to be. My classmates … enjoy the discovery!"

Sonoran News congratulates the Class of 2011 – and all persons who've supported them on their four-year journey.