BY PETE MOHR | MAY 20, 2011
On a not-unlucky Friday, April 13 evening, "The Gianni Gals" celebrate CSHS Softball's 21-9-1 "best ever" season!
"Momma G." announces Region and Team awards, as Ladies say "goodbye" to teammates "Norway" (Merit Abramhasen) and "Finland" (Elina Hallberg)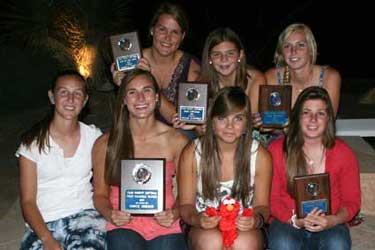 Winners of "Team Awards": (front, l-r) Elyssa Hartsock, Gracie Goulder, Maggie Heberle, Hollis Edwards; (back, l-r) Camille McIver, Megan Scarpulla, Taylor Decker. Courtesy photo by Susan McIver


A moonlit Desert Foothills night is, for-sure, beautiful enough; but from the Goulders' (Charlie and Andy and daughter Gracie) patio and pool area, you had a downright spectacular setting for hosting Softball's Awards Dinner. And great eats, Charlie and Softball Moms! This bachelor sportswriter never passes up a free meal! Thanks for inviting me.

Head Coach Danica Gianni announced the following Desert Sky All-Region awards:
"Coach of the Year": Three guesses – and the first two don't count!
"Player of the Year": Gracie Goulder (a unanimous selection)
1st Team: Camille McIver
2nd Team: Elyssa Hartsock, Kristin Hillier, Megan Scarpulla
Honorable Mention: Amber Underdown, Hollis Edwards

Next up, Team Awards:
"Most Valuable Player": Goulder
"Four-Year Varsity" recognition: Goulder, Hartsock
"Coaches' Award" (team spirit, effort): Edwards "Ace" (pitching): McIver
"Most Improved": Scarpulla, Taylor Decker
"Scholar Athlete": Hartsock
"Bruiser Award" (a/k/a "Wear One for the Team!," meaning hit by the most pitches): Maggie Heberle

Pitching Assistant Coach Mike McIver highlighted the Lady Falcons' winning season with his presentation of impressive statistics. JV Coach Doug Schwartz introduced Kendall Anderson as his squad's MVP. Remember that Miss Anderson scored the winning run in the State 1st Round 10-9 win over Raymond Kellis.

Last, but certainly not least, there were heartfelt goodbyes for the team's two Foreign Exchange Students, "Norway" (Merit Abramhassen) and "Finland" (Elina Hallberg), the latter unable to be present. Here's hoping they'll come back someday. Wishing you a safe journey home at the end of this month.

All in all, a celebratory evening. What's that? Somebody tried (unsuccessfully) to throw "Momma G." into the pool?! B-r-r-r-! Girls will be girls – I suppose. My Anna has grown up to be almost 42! Ladies, I had a lot of fun "covering" your great season. Graduation best wishes to Gracie, Elyssa, Camille and Amber. Have a great summer, everyone!
BY PETE MOHR | MAY 20, 2011
Softball's Gracie Goulder: Desert Sky's "Player of the Year"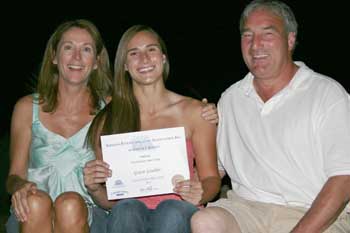 Senior and shortstop Gracie Goulder (with parents Charlie and Andy Goulder hosting Softball's enjoyable Awards Dinner, Friday evening, May 13) was the unanimous choice of Desert Sky coaches as Region "Player of the Year" for 2011. When Gracie grounded a hard single to right in the top of the 7th in the Quarterfinals loss at Shadow Mountain, Tuesday, May 10, she recorded the distinction of being the last of five Goulders to come to bat as a Falcon. Varsity baseball older brothers Albie [CSHS '04], Ollie '06, Jake '08 and Jackson '09 preceded her. Having raised – and encouraged every inning – five outstanding ballplayers, Charlie and Andy Goulder are this writer's privilege to nominate as the first inductees into the "Falcon Athletic Family Hall of Fame"! Congratulations to all Goulders, respectfully honoring Andy's late father who died last winter. No grandfather more enjoyed proudly rooting for his grandchildren. I shall always remember him exhorting each of them, "Hit it over the fence, [name]!" And many times, they did just that. Gracie, good luck in your softball career at the University of Georgia: "How 'bout them Lady Bulldogs?!"
BY PETE MOHR | MAY 18, 2011
Shadow wins, 7-3, but Lady Falcons undaunted!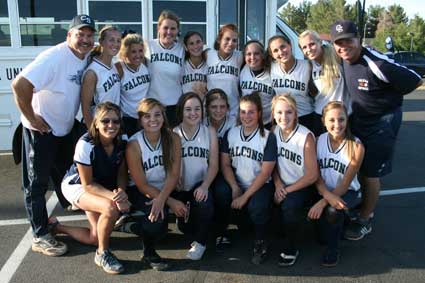 As the old exortation encourages, "Be humble in victory, gracious in defeat." From the above photo, you couldn't tell whether the Lady Falcons had won or lost at Shadow Mountain Tuesday afternoon in the State Quarter finals, May 10.

After Kristin Hillier led off the top of the second with a home run to right center (tying Gracie Goulder on the single season record of 7), the Lady Matadors used a second inning collapse by the LadyBirds to jump ahead, 5-1. RBI's by Hillier and Amber Underdown brought the Ladies back to 3-5 but their bats went dead thereafter, eliminating CSHS from the State tournament.

As the team dined at Uncle Sam's, the Shadow Mountain coaches approached the CSHS coaches and congratulated them on the Lady Falcons' upbeat attitude and good sportsmanship. And that, readers, is what this writer considers being "gracious in defeat."
Proud of you, Ladies, and congratulations on your 21-9 season – the best record in CSHS softball history.

Photo by Susan McIver