BY PETE MOHR | MAY 19, 2011
Jamaal Scott confirmed by CCUSD as new head coach of Cactus Shadows Basketball
Former Shadow Mountain teammate, Ryan Wolcott, tabbed to be Assistant Coach; Anthony Smith, JV Head Coach; Kyle Deimer [CSHS '06], Freshman head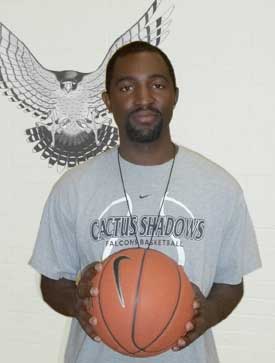 CSHS – Jamaal Scott (r), varsity assistant coach last season under Head Coach Tyler Dummett who is departing for the private sector, was confirmed by CCUSD at its May 10, 2011 regular meeting to be the new head coach of Cactus Shadows Basketball. His selection is certain to be a popular one among the Falcon Basketball community.

Former Head Coach Dummett to Sonoran News: "Coach Scott's energy and basketball knowledge contributed more than significantly to the Falcons' first winning season and State Playoffs appearance in four years. From his involvement with DFAC and coaching here last season, he knows the community – and the kids. I'm confident he'll do great!"

Coach Scott's initial emphases: "To make certain that the coaching transition goes as smoothly as possible, and to build upon the stability Coach Dummett began to instill in our program last season." Assisting Coach Scott will be his longtime friend and Shadow Mountain teammate, Ryan Wolcott, also currently on-staff at DFAC. Anthony Smith becomes head JV Coach, moving up from the 2010-2011 freshmen. Kyle Deimer [CSHS '06], a varsity assistant last season, will take over as freshman coach. Coach Scott is solidly staffed – and ready to get started on his summer basketball program.

"They are willing; familiar with our system; and capable of getting the job done." That's how Coach Scott describes his six seniors (Jack Bennett, Austin Horton, Eric Johnson, Paul Magtibay, Trevor O'Hearn. Hayden Sheridan, Alec Stewart) from whom he's counting on "all-out commitment and leadership."

Born June 3, 1982 in Salt Lake City, Utah, Jamaal Scott grew up in Alexandria, Va., moving to the Valley in 1996. As a 6'5" forward, Scott was a standout for the 2000 State Champion Shadow Mountain Matadors. He attended Cal Poly as a freshman, but transferred to the University of Richmond (Va.). After sitting out his "transfer" year, Scott played three seasons for the "Spiders" who made two NIT and one NCAA Tournament appearances.

At Shadow Mountain, he met Amy Pownall. They were married, Aug. 30, 2008, and have become proud parents of son Carter, 2, and daughter Noelle, four months. The Scotts live in north central Phoenix. Amy, the children and Scott's father, David Scott, are courtside regulars at Falcon home games. Jamaal conceded to this writer, "The only person who is possibly more excited about my opportunity to be the head coach of the Falcons is my Dad. He's a basketball nut!"

It's postgame, Jan. 28, 2011. Against Queen Creek, the Falcons have just posted their second straight "Friday Night Fever" 4th period comeback win. Sonoran News extends a congratulatory handshake to Coach Dummett, who pointedly gestures toward Assistant Coach Scott: "That's the guy who deserves all the credit." What else do Falcon Basketball fans need to know about new Head Coach Jamaal Scott?

Sonoran News welcomes and congratulates Coach Scott. And to Tyler Dummett: Thanks for your important contributions to starting the rebuilding of Cactus Shadows Basketball. Best wishes for success in your new endeavors.