BY LINDA BENTLEY | MAY 11, 2011
Arek Fressadi facing criminal damage charge
M&I Bank files motion to convert Fressadi's bankruptcy to Chapter 7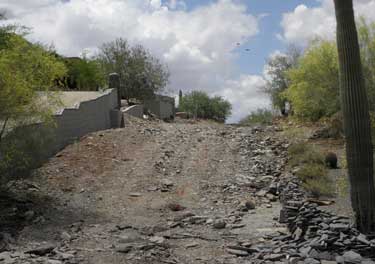 Because his property is in foreclosure and he's been unable to extract monetary settlements from the people he sold neighboring parcels to, Arek Fressadi has been accused of demolishing improvements to his School House Road property and causing $75,000 in damage to his neighbor's property. Photo by Linda Bentley

CAVE CREEK – Despite M&I Marshall & Ilsley Bank having filed a judicial foreclosure against his School House Road property in April 2010, Arek Fressadi has been undoing improvements made to the property, some of which were done prior to M&I making the loan.

Fressadi peeled up the driveway when he was unable to extract monetary settlements by suing the three neighboring property owners to whom he sold parcels.

In October 2010, Fressadi demolished a retaining wall on his property that was an integral part of a retaining wall system on the neighbors' property.

The destruction of the lower retaining wall caused the neighbor's wall to fail.

Approximately two weeks later, Fressadi went to town hall and signed a code compliance complaint against his neighbors for maintaining a faulty retaining wall, making it clear he tore down the wall to damage his neighbor's property, causing approximately $75,000 in damage.

The town prosecutor filed a misdemeanor criminal damage charge against Fressadi in December.

Although a bench trial (to be decided by a judge), Fressadi filed a motion for a change of venue, which is what someone would file if he felt he could not receive a fair trial due to the jury pool. A change of venue would not change the judge.

Cave Creek Municipal Court Judge George Preston took Fressadi's motion as a request for a change of judge and transferred the case to the Desert Ridge Justice Court, where it is scheduled to be heard on June 22.

Meanwhile, Fressadi has filed a flurry of motions in U.S. Bankruptcy Court, where, on April 20, Bankruptcy Judge Eileen Hollowell granted M&I's motion for stay relief with respect to his School House property.

Fressadi filed a notice of appeal on April 28.

Fressadi has also Quit Claimed the property to Scenic Vistas, a company owned by Fressadi and his son Derrack Fressadi, claiming a priority lien of approximately $325,000, for improvements made to the property, although the lien was admittedly never perfected.

Fressadi's Bankruptcy Attorney Jay Powell filed a motion on April 11 to withdraw as counsel of record, citing "a direct conflict of interest has risen" and said he could "no longer provide effective assistance to debtor."

Powell stated, "There has been a significant breakdown in the attorney-client relationship leading to irreconcilable differences which has risen to the level at which counsel can no longer ethically provide effective assistance of counsel," and said he filed the motion to withdraw "after a lengthy discussion with the debtor."

Two days later, Powell filed a request for an emergency hearing on his motion to withdraw, motion to continue the evidentiary hearing and motion to continue deadlines.

Powell, who filed a motion to immediately withdraw as counsel of record, reiterated the "significant breakdown in the attorney-client relationship leading to irreconcilable differences" rising to a level at which Powell could no longer ethically provide effective assistance of counsel.

Powell pointed out Fressadi had begun filing his own documents as a pro se litigant and that Fressadi would continue pro se until he finds substitute counsel.

On April 28, M&I filed a motion requesting the court convert Fressadi's Chapter 11 bankruptcy case to Chapter 7.

Attorney Hilary Barnes of the Cavanagh Law Firm, representing M&I, stated cause existed for conversion based on the circumstances before the court.

Barnes noted Fressadi was using cash collateral – rent collected for the School House property – "without consent or accounting for such use, he has not filed a budget for his monthly spending despite being directed to do so, he's filed no operating reports and recently indicated that he transferred the real property to a company owned by the debtor and his son."

Barnes goes on to say the plan of reorganization filed by Fressadi was patently unconfirmable and there were no circumstances before the court indicating creditors would be better served by the case remaining in Chapter 11.

She stated administration by a Chapter 7 Trustee, an independent third party, would be better able to investigate and disclose the debtor's assets and administer the estate for the benefit of creditors.

Fressadi's Summary of Schedules reflected $317,000 in assets and $1.2 million in liabilities.

Schedule A shows Fressadi owns a residence in Tucson worth $118,000 that is unencumbered.

Although Fressadi indicated he receives $1,600 per month from employment and $566 in food and medical welfare from the state, he provided no disclosure as to the source of the $1,600.

The same schedule shows Fressadi receives $1,250 per month in rent from a tenant residing at the School House Road property.

However, Barnes points out, the rent constitutes M&I's cash collateral and M&I has not consented and will not consent to the use of that cash collateral.

While the schedules show Fressadi has only $606 in disposable income per month, Barnes said the calculation includes M&I's cash collateral. Deducting the cash collateral from the amounts available to pay expenses would result in a negative monthly cash flow.

Further, Fressadi ignored the stay relief granted to M&I with regard to the School House Road property and refused to take into account it could not be used as part of the plan.

Fressadi also acknowledged in his plan that the Scenic Vistas mechanic's lien is unperfected.

Barnes raised "numerous other problematic provisions" with Fressadi's plan, including payment to counsel that has yet to be retained, as required by the Bankruptcy Code.

Barnes also notes Fressadi has already damaged parts of the property and has therefore demonstrated his capacity to inflict substantial loss to assets of the estate.

And, despite the court's specific order requiring he file a budget accounting for his personal expenditures, Fressadi has failed to do so.

In closing Barnes states, "Finally, the debtor filed his Chapter 11 bankruptcy petition in a bad faith attempt to abuse the judicial and reorganization process. As noted in the Stay Relief Motion, 10 days after the superior court granted summary judgment in favor of M&I, the debtor filed the bankruptcy case in an obvious effort to prevent the superior court from entering its final order allowing M&I to judicially foreclose on the real property."

Barnes urged the court to grant conversion, allowing a Chapter 7 Trustee to investigate and then effectively administer the estate. She asserted there are no unusual circumstances before the court to establish Chapter 11 is in the best interest of the estate's creditors and stated dismissal is not a better alternative.