BY LINDA BENTLEY | MAY 11, 2011
Carefree's only candidate for council seeks public support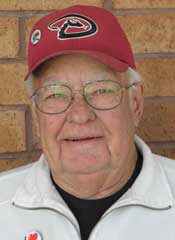 CAREFREE – Jim Van Allen, who received an unprecedented number of votes as a write-in candidate in March, is now the only candidate on the ballot for the May 17 runoff election.
Although, technically, he will still be elected to council, whether or not citizens submit their ballots, Van Allen said he would certainly like to see a show of support for his election to council.
As a write-in candidate, Van Allen received approximately 565 votes in the March Primary Election, about 136 votes shy of being elected outright.
When Jim Peirce dropped out of the race, it left Van Allen as the sole candidate vying for the last council seat.
Because county election deadlines for printing ballots occurred before the April 7 deadline to register as a write-in candidate for the May 17 election and although no one registered as a write-in, the election still had to proceed.
The all-mail election is Tuesday, May 17 and mailed ballots must be received by Maricopa County Elections Department no later than May 17. However, ballots may also be dropped off at Carefree Town Hall, located at 8 Sundial Circle, before the end of business on May 17.