BY PETE MOHR | MAY 4, 2011
Lady Falcons earn Cactus Shadows softball's first "top eight" finish
First Round State Playoffs game probably at home, Friday, May 6, 4 p.m. first pitch, opponent TBD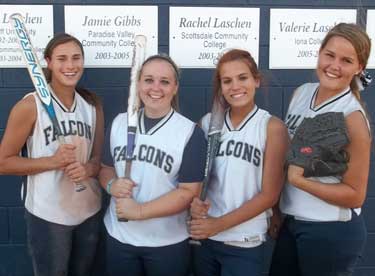 They didn't need "Rally Caps"! Kristen Hillier (second from left) led off the bottom of the 6th with a line drive home run over the left field fence; (l-r) Gracie Goulder, Amber Underdown and Camille McIver followed with big hits; and by the time the six-run dust had settled, the Lady Falcons had protected "The Rooste" against Saguaro, 8-4, on "Senior Day."


CSHS – Ah, the inexplicable world of A.I.A. Power Points calculations! Ranked #2 entering the week of April 25, the Lady Falcons rallied to beat Saguaro, 8-4, on "Senior Day" (April 26), then traveled to McClintock, where they "mercifully" dismounted the Lady Chargers, 13-0. Good enough to drop the LadyBirds to #6 as of Wednesday, May 4.

"Top Eight" would, in that rarified atmosphere, break out the oxygen masks for Head Coach Danica Gianni (Desert Sky Region's "Coach of the Year," by the way) and her squad. At this point last year, the Ladies squeaked into the Playoffs at #14, then upset #3 Peoria before losing a Quarterfinals heartbreaker, 2-1, in the wind tunnel that was Canyon del Oro. What a difference a year makes!

Could the 15-3 HomeGals go all the way? With pitching ace senior Camille McIver at the top of her game, classmate and #2 hurler Amber Underdown healthy again, and Gracie Goulder being "Gracie Goulder," this writer predicts the Lady Falcons will be playing in the Championship Game, 8 p.m., Saturday, May 14, at Rose Mofford Field #1.

Now, now, "Momma G."! Don't give me that Sports Illustrated jinx "you-know-what"!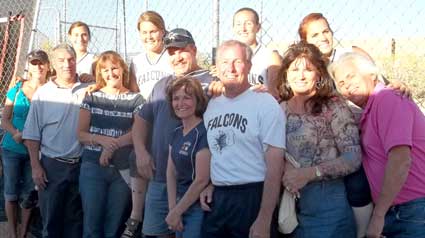 "Senior Day"! Senior parents! Senior smiles! (l-r, with proud parents in parentheses): Gracie Goulder (Charlie and Andy Goulder), Camille McIver (Susan and Mike McIver), Elyssa Hartsock (Ember and Bob Hartsock), Amber Underdown (Sue and Clay Underdown). And senior congratulations from Sonoran News!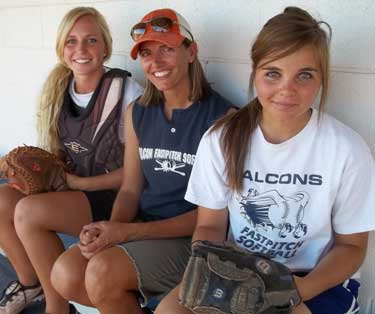 What a regular season grand finale! Head Coach Danica Gianni (c.) with two of her Lady Falcon fledglings: sophomore catcher Taylor Decker and junior rightfielder Maggie Heberle who played big roles in the 13-0 April 28 "mercy killing" at McClintock.

Photos by Pete Mohr