BY PETE MOHR | MAY 4, 2011
Celebrating "Senior Night's" 6-1 victory over McClintock, Thursday, April 21 were: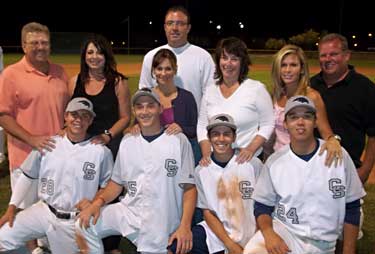 (l-r) Brent Nurre (Bryan and Jennifer Nurre), John Leonard (John and Christine Leonard), Charlie Dominick (Debbie Dominick), Connor Sabanosh (Jay and Kristen Sabanosh).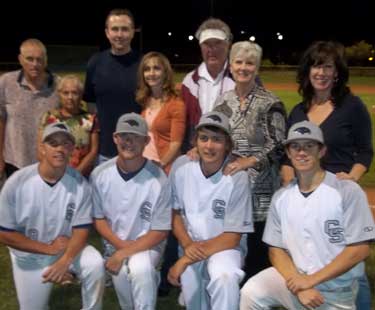 (l-r) Scott Freeman (grandparents George and Karen Bunning), Ryan Nemger (Mike and Janet Nemger), Max Patterson (Scott and Jean Patterson), Joey Ford (Michelle Ford).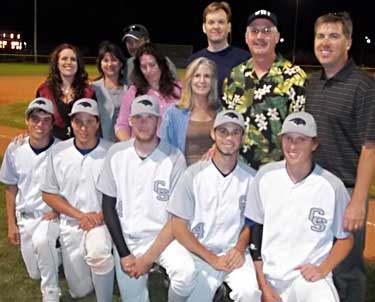 (l-r) Robert Ryan (Leslie Ryan), Jacob McIntyre (Jeff and Penny McIntyre), Scott Walter (Brian and Susan Walter), Matt Herrera (John and Shelle Herrera), Riley Wicker (Joe Wicker).
"The Committee" and a Big Double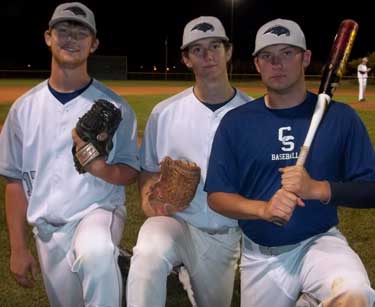 Head Coach Spencer Grace's "Pitching Committee" starter/winner (l.) Ryan Nemger (five innings, two hits, one unearned run) and reliever (c.) Joey Ford (struck out the side in the 6th, one hit, started game-ending double play in 7th) shut down the McClintock Chargers, and (r.) Grant Lasley smoked a go-ahead two-run double to deep right center in the 4th, leading the Falcons to a 6-1 win on "Senior Night," April 21.

Photos by Pete Mohr