BY PETE MOHR | MAY 4, 2011
Native Creeker Ry Eikleberry, 22, "three-peats" as top jockey at Turf Paradise track
After summer's season at Minnesota's Canterbury Park, this outstanding young rider will likely advance his career to Hobbs' (NM) Zia Park Racino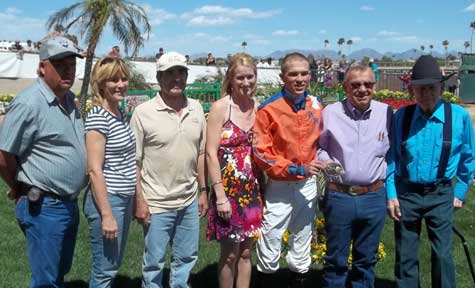 An award ceremony photo-op with Turf Paradise's 2010-2011 season's top jockey, Ry Eikleberry (5th from left): (l-r) Creekers (Dad and Mom) Kevin and Pam Eikleberry, Richard Ruiz (Ry's valet), Jilique Joubert (Ry's #1 fan, chef, and beautiful leading lady), Hank Demoney (Clerk of Scales) and Bob Yeager, longtime jockeys' quarters superintendent. Congratulations to Team Eikleberry!
PHOENIX – Even though Ry Eikleberry now lives in north Phoenix, I'm going to claim him as a "three-peat" champion for Cave Creek, where he was born and raised. And he attended (and wrestled for) Cactus Shadows his freshman year before pursuing his dream to become a horseracing jockey. On Sunday, May 1, after the 3rd of nine races, Ry received his third consecutive award as Turf Paradise's leading jockey, the first "three-peat" (2008-2011) at that track, where Cave Creek Mayor Vince Francia has become Vice President and General Manager. Belated congratulations, your Honor!
Through Monday, May 2, Ry had ridden his mounts to 150 1st place finishes, 120 2nd's and 115 3rd's in approximately 810 starts. Through Wednesday, April 22, Ry's "in the money" (1st-2nd-3rd) percentage was 47.2! A pretty doggone good "bet", I'd say, this jockey Ry Eikleberry!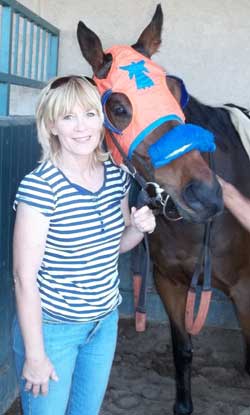 Before saddling Haitian for the 5th Race, Sunday afternoon, May 1, Trainer Pam Eikleberry encourages her entry. Even with Ry aboard Haitian finished out of the money. Note the "Guardian Angel" symbol on the front of Haitian's blinkers.


"Everyone at Turf Paradise has been wonderful to me," Ry acknowledges. "This is where I began my dream … my career." But he senses the time has come for him to move on to bigger tracks, offering bigger purses and more competitive owners and their horses.

And so this fall, working with a new "jockey's agent," he'll take his tack to Hobbs, New Mexico's Zia Park Racino (a racetrack with on-site casino gambling). Racinos: that's the profitability trend at racetracks (both thoroughbred and dog racing). At the anticipated special session of the Arizona Legislature, the introduction of racino legislation will pit Arizona's six tracks (three thoroughbred, three dog) against the deep pockets of statewide Indian Gaming. Should Turf Paradise become a racino, horseracing fans could see Ry competing here again. He loves his native Arizona!

Ry Eikleberry is one of the most likeable, most engaging, most modest athletes you could ever encounter. This writer can hardly wait until the first Saturday of the May in which Ry post parades to the Churchill Downs starting gate as the band plays "My Old Kentucky Home," But first, Ry, congratulations on your Turf Paradise "three-peat" – and good luck in New Mexico!





For "Sonsfan" Pam, Ry shows the Eikleberry "silks" to Sonoran News: RRR on the left sleeve (her sons Rustin, 30, a Phoenix firefighter readying for his Captain's exam; Rhet, 25, an outdoor recreation employee in Ketchikan, Alaska; and Ry); three symbols (firefighter's logo, a black bear and a jockey) and a "Guardian Angel" (for all riders) on the right shoulder. The orange and blue colors salute the Denver Broncos. "Actually," Pam confesses, "We were really John Elway fans."

Photos by Pete Mohr