APRIL 27, 2011
Desert Tortoises available for adoption
Phoenix Herpetological Society schedules adoption workshops
SCOTTSDALE – The Phoenix Herpetological Society (PHS) will be hosting tortoise adoption workshops this spring and summer for people interested in adopting a desert tortoise.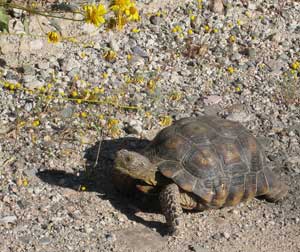 Those interested in sharing their yards with a tortoise should visit the Arizona Game and Fish Department's (AGFD's) Tortoise Adoption Program website (www.azgfd.gov/tortoise) for more information on feeding, caring for, and creating a habitat for a tortoise. The desert tortoise adoption packet, which includes the adoption application, can also be downloaded at this site.

Once approved, adopters will be able to foster tortoises. They will be registered to attend an adoption workshop to ensure they know the proper care for this state-protected species and pick up their new family member. Upcoming workshops will be held on Saturday, May 14, and Saturday, June 18, from 8 a.m. — noon.

The desert tortoise is a fascinating, long-lived animal that has become well adapted to survive in the desert environment. Because humans have intruded on their natural habitat, today there are more desert tortoises in captivity than in the wild.

"People are pleasantly surprised at how fun a desert tortoise can be for the family, and how easy they are to care for," says Cristina Jones, Arizona Game and Fish turtles project coordinator. "Tortoises make a good tool for parents to teach their children about wildlife, the environment and how to care for an animal."

Desert tortoises can live up to 100 years. They grow to be about 15 pounds and hibernate in the winter months. They eat plants, including grasses, wild-flowers and native cactus fruits. Once captive, desert tortoises can not be released back into the wild. In addition, desert tortoises may not leave the state of Arizona.

Anyone interested in adopting a tortoise at a workshop must meet certain criteria, including:
• Be over 18 years old and reside in the Greater Phoenix area
• Not already possess a desert tortoise (only one desert tortoise per household)
• Have a secure enclosure in the yard, free from potential hazards, such as dogs or a pool
• Have a burrow for the tortoise so it can get relief from extreme temperatures
• Pay an adoption fee which includes a microchip, health screening, and registration with AGFD

A major part of the Phoenix Herpetological Society's mission is conservation and education about the role wildlife plays in the desert around us, as well as the world. PHS is home to more than 1,200 native and non-native reptile species, several of them endangered.