BY PETE MOHR | APRIL 20, 2011
Gregory W. (Greg) Davis, 34, becomes 4th head football coach in CSHS gridiron history
"Being the head coach of Cactus Shadows football is a dream job for me."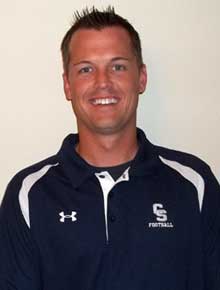 CSHS – Head football coaches: Gerry Label1e (1985-2002); Dale Nicol (2003); Chad DeGrenier (2004-2010); and now Greg Davis, who will celebrate his 35th birthday, Oct. 28 of this year. For 16 of his 35 years, Greg Davis has been in, or closely involved with, coaching high school athletics, primarily football. During
Sonoran News
April 18 interview with Coach Davis, he proudly – but quietly – volunteered, "I've paid my dues."
That he most certainly has – through good times and bad, including, at age 24, becoming the youngest head football coach in Arizona at Mayer High School where his team made the Class 2A Playoffs in 2002, 2003, and in 2010, the head coaching position at San Ysidro (Calif.) High, in the multi-cultural border town of the same name south of San Diego. The San Ysidro position physically separated him from his family for approximately 17 months. He saw them, on average, once every two months. He doesn't flinch from acknowledging – not complaining – to me, "It was hard."
There were stops in-between that would have caused many a young football coach to leave the profession. Not Greg Davis. He never lost faith in himself – or gave up on his goal to return to Arizona as head coach of a recognized high school football program. The above chronology is recited so that readers may begin to understand how grateful – and humbled – Coach Davis is to now be embarking upon his personal commitment to grow his "dream job." Greg Davis has persevered to finally winning that "dream job." Strengthened by his Faith, I see him fighting with everything that he is to make certain that his "dream job" continues to come true.
I believe Greg Davis's greatest challenge will be to successfully balance his deeply-rooted idealism with the reality of coaching a high school football program that receives very little, if any, financial support from CCUSD. And perhaps more importantly, will his players (and their parents) embrace Coach Davis's commendable ideals, as he "uses my talents to positively affect the lives of others?" Only time will provide an accurate answer.
I want readers to know that after photographing Coach Davis with his family, he began our interview by expressing appreciation to former Head Coach Chad DeGrenier "for turning over to me a football program that's in tip-top shape. Basically, I'm walking into a turn-key situation." And he enthuses about rising junior quarterback Bryce Kinsler: "I've never before had the opportunity to coach a quarterback like Bryce. I'm really excited about what he's going to mean to our team this coming season."
This aside about the 2011 campaign. Through the magic of computer technology, the following eight opponents have been scheduled, with dates to be announced before the end of this month: Pinnacle, Boulder Creek, Horizon, Paradise Valley, Notre Dame, Bradshaw Mountain, Prescott, and Barry Goldwater, with Queen Creek and Shadow Mountain as the "at-large" foes. You don't need a GPS to recognize the geographic sanity in that line-up. And I'm especially pleased by the return of traditional opponents Notre Dame and Pinnacle. The "Desert Ridge Bowl" lives again! Back to Coach Davis.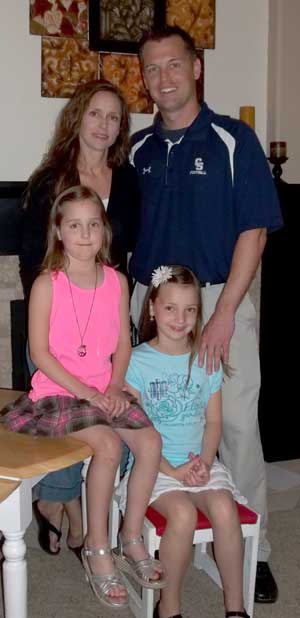 Coach Greg Davis's "home" staff: his lovely wife, Joy, and their adorable daughters, Aven, soon to be 8, and Maelin (seated), 6. Proud grandparents are north Phoenicians Tim and Faye Komives and "Trilogy" residents Bill and Kay Davis. For Coach Greg and Joy, it's about "all in the (Valley) family."
Photo by Pete Mohr
He was born Oct. 28, 1976 in Hueytown, Ala., just outside Birmingham. By age two, he'd become an Auburn fan, an allegiance he carries to this day. The Davis family moved to the Valley in 1990, with young Greg attending Scottsdale Christian Academy (SCA) from 8th grade until his 1995 graduation. At SCA, he met his future wife, Joy. They were married Dec. 12, 1998. Coach Davis graduated in Dec. 1999 from Grand Canyon University, majoring in Physical Education and Secondary Education. At age 19, he began his coaching career as an assistant football coach at SCA.

Some 16 years later, what is his coaching philosophy? "First, to provide my coaches and players with moral, ethical leadership. Second, encouraging my players to the recognition that the football field must be an extension of the classroom, expecting excellence in both. Third, to establish open communication – at every level of the program – with my coaches, players and their parents. Fourth, that my players have fun. If football's not fun, why play? And last, that playing football offers life-learning experiences beyond wins and losses."

His three primary goals? "First, establish a working relationship with the kids – beyond the football field. I want to become part of their lives. Close behind, to realize the goal of becoming a consistent State contender. Thirdly, to promote greater mutual involvement between our football program and the community."

Coach Davis will have to hit the ground running at full speed. Spring practice begins Monday, May 2. "We may be understaffed for spring football. I'm going to take whatever time is needed to make the right choices for my staff. Principal Bebee and Athletic Director Swearengin have given me complete hiring authority with respect to bringing my staff on board. I thank them for their confidence. No coach or player will be allowed to jeopardize the success of – or to embarrass – our program. Together, we'll all be striving for excellence … to meet higher standards."

Obviously, Coach Davis is setting a lofty bar for Cactus Shadows Football. "I'll not ask my coaches and players to do anything I'm not willing to do myself." The "Greg Davis Football Doctrine" is inarguably commendable. Is it realistic? He confidently believes that it is.

I offer that patience and mutual respect will be the essential cornerstones for Coach Davis's "dream" to be realized by the entire Cactus Shadows football community. Good luck, Coach. You know that you're going to need a lot of that.