BY PETE MOHR | APRIL 20, 2011
Cave Creek Football signs up 168 on April 2, a new record for first-day registration!
CSHS Head Spirit Line Coach Rika Cuff returns to direct CCF's cheerleading program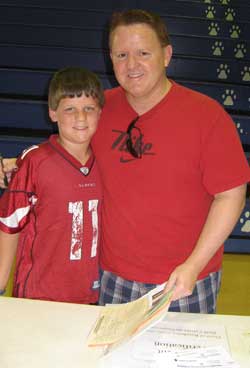 Father-Son registration "team"! Scottsdalian Kevin Kelleher proudly accompanied son Dylan, 10, to Cave Creek Football and Cheer's first registration, Saturday, April 2. Dylan is a 5th grader at Desert Willow Elementary. Photos by Pete Mohr


CAVE CREEK – If April 2's "record" first registration of 168 aspiring young footballers is any indication, Cave Creek Football's (CCF) upcoming 10th Anniversary season is going to be its most successful ever. That's the expectation of CCF's president, Craig Eckhardt. Ken Smerz, President, Junior Football of Arizona (JFA) concurs.

CCF is the founding member association of parent organization, JFA, headquartered in Cave Creek. Including all ten associations currently affiliated with JFA, Smerz believes that by the end of the 2011 season, the new cornerstone entity could embrace member associations totaling well over 2,000 players. That's an impressive beginning.

Sonoran News congratulates CCF leaders – and all parents – who stood their ground and regrouped (from last spring's power play by rule-breakers in Scottsdale and Chandler) to form, upon a fundamental standard of integrity, a stronger youth football organization. That's the Cave Creek way, to which JFA and CCF are rock-solidly committed.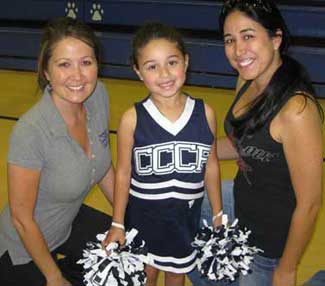 And for the second consecutive season, CSHS Spirit Line Head Coach Rika Cuff returns to direct CCF's cheerleading program for girls, ages 5-14. Director Cuff will be assisted by program administrator Christine Klein. For more information on the cheer program, go to cavecreekfootball.com/cheer.

Next registrations are May 7 and June 4, 9 a.m. - noon, at Black Mountain Elementary School.


Above photo: A future CSHS Cheer State Champ? CCF Cheer Director Rika Cuff (l.) believes in starting 'em young! That's Isabel Hager (c.), 5, delightedly sizing her cheerleading uniform. Her Mom, Margie (r.), told Sonoran News "Miss Isabel" didn't want to take her uniform off! Isabel is a pre-K Spanish student at Desert Willow.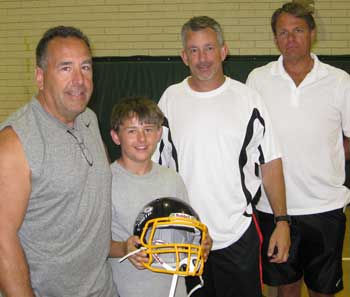 A Booster, his Boy and "The Brass": (l-r) Football 's generous booster, Creeker Matt McMahon, his son, Sam, 11, Junior Football of Arizona President Ken Smerz and CCF President Craig Eckhardt were photographed at Youth Football's initial registration for the 2011 season. McMahon, Outback Steakhouse joint venture partner here in The Valley, is also a CCF director.