BY PETE MOHR | APRIL 20, 2011
Ford's 12Ks, Dominick's hustle rally Falcons past A.J., 8-3, April 15 (H)
'Birds climb to #7 in Power Points rankings; Queen Creek here for Thursday night showdown

CSHS – As of Wednesday noon, April 20, the Baseball Falcons were ranked #7 in A.I.A. Power Points. "Top Sixteen" make the State Tournament or the 'Birds can get there by finishing 3rd or higher in the eight-team Desert Sky Region. Saguaro has a "lock" on first. Falcs are vying with McClintock and Queen Creek for the #2 and #3 slots.

On Friday night, April 15, the HomeBirds won a home game they had to win, rallying for five runs in the bottom of the 5th to beat Apache Junction (A.J.), 8-3. Joey Ford started and went the distance, striking out 12 Prospectors. There were two momentum changers: top of the 3rd, A.J. leading, 3-2, with runners on third and second, no outs. Rightfielder Ryan Nemger raced in to snag a line drive, then made a strong throw to the cut-off man, first baseman Max Patterson, who whirled and threw a strike to catcher Connor Sabanosh who put the tag on the A.J. runner for the 9-3-2 threat-ending double play.

Bottom of the 5th, Charlie Dominick bounces a lead-off bunt for a hustle play base hit. Sabanosh takes one on his left shoulder, moving Dominick to second. Clean up hitter Sean O'Grady grounds hard to short. Sabanosh is forced at second but breaks up the double play, allowing the heads-up Dominick to score the tying run all the way from second!

Postgame, Sonoran News to Head Coach Spencer Grace: "Did you send Charlie?" "No," Coach Grace answered, "he made a great 'read' on his own." Falcons went on to plate four more runs to pull away, 7-3, at the end of five.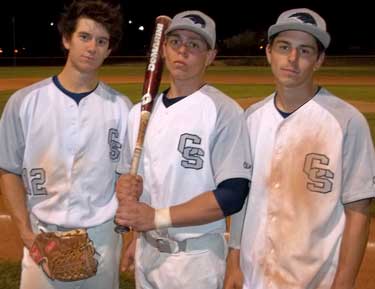 In the bottom of the 6th, Brent Nurre crushed a high-and-inside fastball over the utilities building behind the leftfield fence. What a shot! The baseball souvenir was retrieved by his younger brother, Brandon, and his uncle, Bill Nurre. Final CSHS, 8 – A.J., 3.

Queen Creek, ranked #8, comes in for the big one, Thursday night, April 21, 7 p.m. first pitch. Pictured above (l-r) Ford, Nurre and "Charlie Hustle" (Dominick). Falcons need to solidify their State berth by beating the Bulldogs, then finish their regular season, Thursday night, April 28, with a home win over McClintock. "Senior Night" will be celebrated by the 13 Falcon seniors and their parents.